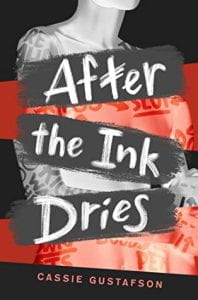 Gustafson, Cassie. After the Ink Dries. Simon & Schuster, 2021. 406 p. 978-1-534-47369-0. $19.99 Grades 10-12.
Trigger warning: sexual assault and abuse; suicide ideation, self-harm, and attempted suicide; bullying and victim-shaming.
It is fitting that this book begins with a trigger warning, for it is much needed. It is difficult to read of the characters' experiences in this book without a strong emotional and intellectual response.
The opening chapter plunges the reader immediately into Erika's world as she wakes disoriented in an unknown bedroom to discover herself naked with Sharpie writing all over her body–crude messages from–she sees later–at least four boys who also signed their names. She struggles to remember the events of the night before–a party…she was so happy with her new boyfriend Thomas's attention…finally feeling more accepted in her new town….the campfire….she must have passed out. She slowly realizes she's been assaulted and manages to leave the house unnoticed, but not before hearing four boys gloating over their conquest of Erika, attempting to pull in Thomas, whose response is unknown. Her shame and revulsion is absolute, and all she wants to do is retreat home, remove the filthy writing, and undo the entire past 12 hours.
Meanwhile, the perspective shifts to Thomas, who is dazed by the events and slow to admit to anyone–even himself–what happened at the party. He's on his way to a coveted, much-planned-for audition to music school, arranged by his uncle in the absence of any fatherly support. He bombs the audition, then scrambles to a double lacrosse practice, where the other guys are ready to tell him how to think about the party (and don't bail on your friends). Erika and her mom have only been in town for a few months, with her mom taking all the overtime she can as a nurse, and Erika making her way in new teenage social circles. Erika seems to have made friends with Caylee and perhaps Amber, and she's made enemies with Tina, whose interest was in Thomas. Erika needs a friend, and instinctively thinks of Caylee, but how can she talk to Caylee when Caylee is so proud to be Zac's girlfriend, and when Zac's name is written on Erika's body? Erika tries to act as though nothing is amiss, but Tina's social media posts start rumors which others only fuel. Ringleader Zac texts Erika simply to torment her. Quickly, Erika becomes a pariah: She's mentally unstable, a nobody, new to town, sl**, must have wanted it, should have known better, and on and on. With nowhere to turn, Erika seeks to end her life. She is resuscitated and held in the hospital while the boys, their parents and lawyers round up to crucify her. Enter Amber, who emerges as a firehouse of a real friend to strengthen and support Erika (and her mom). The police want details, but Erika wavers. If she doesn't explain, there will be no repercussions, and maybe this could be over. A visit from Caylee, who has only Zac's best interest in mind, enrages Erika enough to realize she must speak.
THOUGHTS: Gustafson's first novel, written in alternating voices of Erika and Thomas, is a terribly real book, leaving readers as witnesses to sexual assault, disbelief of survivors, and seeming powerlessness of young women. The novel very importantly shows that although Erika was not raped, this was sexual assault. After the Ink Dries is recommended for mature readers with a support system to discuss its contents.
Realistic Fiction          Melissa Scott, Shenango Area SD