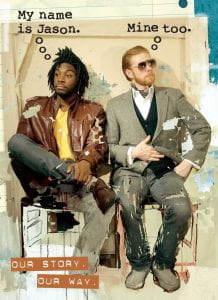 Reynolds, Jason, and Jason Griffin, illustrator. My Name Is Jason. Mine Too: Our Story, Our Way. Atheneum, 2022. 978-1-534-47823-7. Unpaged. $19.99. Grades 7-12.

College roommates turned best friends, Reynolds and Griffin moved to New York City with the hopes of pursuing their poetic and artistic dreams. Though glamorous, life in the city wasn't easy and to make it work they had "No food. For the first six months we only ate cereal, peanut butter toast. Tuna. Fried Tuna. Tuna and rice. Rice and soup." With little aside from their friendship to sustain them, they figure out ways "to make it" against the odds when everyone else seems to think they're "probably stupid." Griffin's multimedia art including watercolors, collages, and sketches compliment Reynolds' poems as their story unfolds. A tribute to their perseverance and friendship, this stunning work encourages readers to follow their dreams even when they seem unattainable and emphasizes the importance of having a good support system to help you get there.

THOUGHTS: The powerhouse duo behind Ain't Burned All the Bright is back for another artistic collection of poetry. Fans of Reynolds' work will enjoy learning the story behind how he got where he is today. Highly recommended for middle grade and young adult collections.
Poetry          Maryalice Bond, South Middleton SD
Graphic Memoir