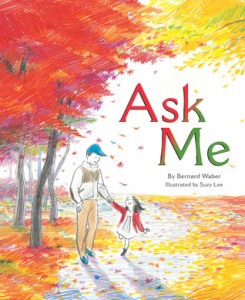 Waber, Bernard. Ask Me. New York: Houghton Mifflin Harcourt, 2015. 978-0-54773394-4. unpaged. $16.99. Gr Pre-K – 1.
Question-asking is a huge developmental skill for a preschooler, and some kids are clearly more prolific and inquisitive than others! Ask Me is a gorgeous, sly, and sweet book published posthumously by Bernard Waber. On a daddy-daughter walk through the park, the little girl dominates both sides of the conversation, which seems to work fine for the patient and cordial father.  As they move into their bedtime routine, their conversation shows that she is settled, reassured, and loved. The autumnal, spirited color pencil illustrations by Suzy Lee bring the appropriate tone and setting to the story, and hopefully will leave your young reader ready to ask more questions.  THOUGHTS: Sweet addition for a read aloud or preschool, especially geared toward early inquiry, nature exploration, and dialogue. Worthy purchase!
Picture Book; Family     Dustin Brackbill, State College Area School District
Blanco, Richard. One Today. New York, NY: Little, Brown and Company, 2015. 978-0-31637144-5. unpaged. $18.00. Grades K – 3.
Poetry has a gift for reaching an audience and finding commonalities and connections. Such is the gift that Richard Blanco and Dav Pilkey have created in this gorgeous picture book edition of One Today, the inaugural poem from President Obama's ceremony to begin his second term in office. The audience, for its initial delivery, was government leaders, but this version will reach even the youngest future leader with the journey of one family through one today. Pilkey's acrylic and India ink illustrations blanket every page in vibrant colors, often reflecting the rays of sunlight blending the sky and city together. The two children, plus a cat, walk their mother to work at a market and then go about their day exploring, reading, learning, listening, and seeing what the city has in store. The words and pictures are perfectly complementary in both the obvious and subtle text at work, creating connections both intimate and broad. By the end of One Today, readers can appreciate the differences of our backgrounds, faith and family while understanding the bond and unity that comes with sharing the same sky and ground, sight and sound, color and light, day and night.  THOUGHTS: With it's starred reviews, and certain awards to come, this book will be a great addition to your library. Classes could build discussion questions around community topics or discover other famous inaugural poems and poets as extensions.
Picture Book; Family      Dustin Brackbill State College Area School District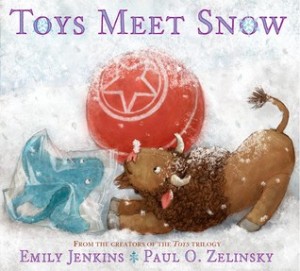 Jenkins, Emily. Toys Meet Snow. New York: Schwartz and Wade Books, 2015. 978-0-385 37330-2. 36 p. Grades K-3.
The characters from the Toys Go Out series are back in a picture book enhanced by Paul O. Zelinsky's colored illustrations. The little girl is away, and the toys decide to head outside for their first snowfall. Two-page spreads told in panels voice each character's thoughts; book-smart Plastic, curious Lumphy and poetic StingRay think out loud about the snowy day. They examine how their world looks different when they make snow angels, and Plastic even finds a sled. Plastic goes from voicing facts to truly appreciating the beauty of StingRay's words as the day ends.  Thoughts: Fans of the Toys Go Out chapter books will welcome this beautiful colorful story about the three friends. Those new to the characters will appreciate its charm as well. A gorgeous read-aloud for all ages.
Picture Book; Winter      Lisa Weiss, Churchville Elementary School
Simon, Richard and Tonya Simon. Oskar and the Eight Blessings. New York: Roaring Book Press, 2015. 978-1-59643-949-8. 32 p. Grades 2-6.
The book begins on Kristallenacht, the Night of Broken Glass, during World War II. Sent alone to America to find an aunt he's never met, Oskar finds himself in New York City on Christmas Eve, also the seventh night of Hanukkah. The story follows his travels up Broadway as he walks over one hundred blocks to find his aunt's apartment. Along the way he discovers the kindness of strangers, the blessings his father told him to look for in people: a roll from a woman feeding the birds, a free copy of the Superman comic, and a pair of mittens from a boy in the park. He even encounters Eleanor Roosevelt, who, the author's note informs us, really was in the city that day. The happy reunion of Oskar and his aunt feels like the biggest blessing among so many smaller but equally significant ones.  Thoughts: There is just enough information and subtlety about World War II to discuss with older students (or gloss over with younger ones to focus on the "miracle" part of the story instead). A good addition to a genre study on historical fiction or an older grade Hanukkah picture book collection With illustrations reminiscent of both Chris Van Allsburg and Brian Selznick, panels giving it a graphic novel feel at times, illustrator Mark Siegel enhances the story with realistic historical details.
Picture Book; Family     Lisa Weiss, Churchville Elementary School