Moldavsky, Goldy. Kill the Boy Band. New York: Scholastic, 2016. 978-0-545-86747-4. 312p. $17.99. Gr. 10-12.
Moldavsky takes a dark (yet humorous) look at the cult-like world of teen girls obsessed with boy bands in her debut novel. Four teen girls (Erin, Isabel, Apple and the novel's unnamed narrator) are bound by their love of The Ruperts, a British boy band. Determined to meet the boys when they come to New York for a Thanksgiving concert, the girls get a room at the same swanky hotel where the band is staying. When Apple encounters her favorite member of the band, Rupert P., in the hotel hallway, she tackles him, knocks him out, and brings him back to the girls' room. Now in possession of their very own Rupert, the four must decide what to do with him. A night filled with adventure, romance, band drama, fights, social media wars, fan riots and yes, even murder, occurs. THOUGHTS: In this dark, satirical look at the world of fame, everyone is revealed to have flaws, from the obsessed fans to the the boy banders, who turn out to be not so perfect after all. Fans of today's popular groups will find many of the scenarios and observations present in the novel relatable and spot-on. Purchasers should be aware that language used in the book make this a purchase best suited for high school collections.
Realistic Fiction       Elizabeth Henry, Lampeter-Strasburg HS/MS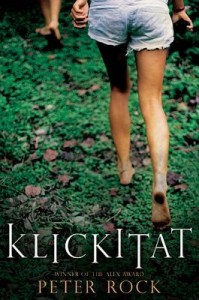 Rock, Peter. Klickitat. New York: Amulet, 2016. 978-1-4197-1894-6. 229p. $17.95. Gr. 9-12.
Vivian's rock has always been her older sister, Audra. She helps Vivian deal with episodes of anxiety and stress and gives Vivian the attention she does not always receive from their somewhat distant  parents. So when Audra runs away, Vivian feels lost. She holds on to the promise that Audra made that she will return for her, and they will be together once more. She looks for clues to Audra's presence and when writing begins to appear in a blank notebook, Vivian feels a connection to her sister. When Audra returns, she is in the company of Henry, a young man she has been living with off the grid. Vivian, now off her anxiety medication, joins them in their makeshift hideout located under a house. Together they practice survival skills in anticipation of leaving the city behind and travelling northward to live off the grid together. But who is Henry, and can he be trusted? When tragedy befalls the group, Vivian returns home alone. THOUGHTS: This was a thought-provoking novel. Vivian is an unreliable narrator, and the reader at times is not sure if the events she describes are actually occurring, or are a symptom of her mental illness or her stopping her medication. While Klickitat is a quick read, it is a novel that will stay with the reader a long time as they ponder the questions raised by the story.
Realistic Fiction       Elizabeth Henry, Lampeter-Strasburg HS/MS
Deuker, Carl. Gutless. Boston: Houghton Mifflin Harcourt, 2016. 978-0544-649613. $17.99. 329 pp. Gr. 7-12.
Brock Ripley is approaching his freshman year and long-term challenges.  He's a decent enough soccer athlete, but he chokes when he's faced with pain from opponents.  Meanwhile, his dad's health has changed; once a physically active man and a very involved father, he's diagnosed with Steinert's disease, a form of multiple sclerosis.  As his dad deteriorates, Brock deals with the loss and carries his own deep fears.  Stellar athlete Hunter Gates, who is two years older, has great athletic ability and a father pushing him to a pro career.  At the park one day, Hunter's dad pulls Brock into catching passes for Hunter.  One day becomes many, and the two find they click perfectly on plays.  Brock joins the football team and struggles to prove himself and lose the shadow of being known as "gutless" on the field.  Unfortunately, Hunter's not really a friend, and his physical superiority and deep arrogance lead to bullying of Brock and Brock's friend, new student Richie Fang, whose differences, notably his Chinese heritage, eventually attract Hunter's cruelty.  Brock considers Richie a friend, but how can he stand up for him if he's not standing up for himself?  Will he stand up against Hunter, or choke every time?  THOUGHTS: This is a bleak story that feels heavy due to the isolation of characters and sense of dread over every page.  It's clear that there's no one but Brock to handle his problems.  Deuker offers just a sliver of hope by book's end.  Deuker knows how to fill a sports story with field/court action while highlighting timely social issues, much like his Gym Candy (2007) deals with steroid use and Swagger (2013) targets sexual abuse.  The writing is strong and the story flows well, and readers will be drawn to this book.
Realistic Fiction        Melissa Scott, Shenango High School
Niven, Jennifer. Holding Up the Universe. New York: Alfred A. Knopf, 2016. 978-0385755924. 400 pp. $17.99. Gr. 9 and up.
With her second novel, Jennifer Niven has proven herself to be an astute observer of the teenage experience and the unique struggles faced by individuals in all walks of life. The story is reminiscent of Rainbow Rowell's Eleanor and Park, as it alternates between the first person viewpoints of Libby Strout and Jack Masselin, each of whom have their own inner demons to battle. Libby, once so obese that she had to be literally cut out of her house, is returning to high school after losing weight but still carrying more than she would like. Jack has prosopagnosia, meaning that he cannot differentiate faces, even those of his close friends and family, from one moment to the next. He barely makes it through some interactions without giving himself away. Libby quickly becomes the butt of many jokes and pranks, some at the hands of Jack himself. Interestly, however, Libby notices Jack's problem, and the two begin an unlikely friendship. The characters are well-developed and authentic, and I found myself rooting for both, especially Libby, throughout. Niven gives Libby's character such confidence, a characteristic that I wish more high school girls possessed. The plot moves quickly, and the reader is left wanting more of the story.  THOUGHTS: This is an excellent novel and should be available in all high school libraries. It will most probably be one of my top picks for the year.
Realistic Fiction         Lindsey Myers, Shady Side Academy Senior School
Jennifer Niven is becoming one of my favorite Young Adult writers. She possesses a keen knack for understanding the teenage mind, and her novels are engaging and fun while at the same time exposing teens to new experiences and lives. My hope is that by reading her books students will begin to move past sympathy and develop more empathetic feelings when approaching issues faced by their classmates.