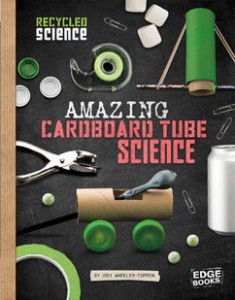 Recycled Science (series). North Mankato, MN: Capstone Press, 2017. 32 p. $84. Gr. 3-8.
Enz, Tammy. Awesome Craft Stick Science. 978-1-5157-0861-2.
Enz, Tammy. Cool Plastic Bottle and Milk Jug Science. 978-1-5157-0862-9.
Enz, Tammy. Incredible Snack Package Science. 978-1-5157-0863-6.
Wheeler-Toppen, Jodi. Amazing Cardboard Tube Science. 978-1-5157-0860-5.
Each book in this series focuses on an everyday object like a cardboard tube or a popsicle stick.  There are several step-by-step experiments and projects that can be completed using the objects.  Not only do these projects serve to recycle the materials, but they also teach scientific principles that will stick with the reader after the project is finished.  For example, readers will turn cardboard tubes into marshmallow shooters and learn about potential energy and kinetic energy in the process.  They will create harmonicas out of popsicle sticks in order to understand the concepts of sound waves, frequency, and pitch.  Complete with a glossary, index, color photographs, additional print and web resources, and critical thinking questions using the Common Core, this hands-on series is sure to entertain students as they learn about scientific principles.  THOUGHTS:  This is an excellent resource for elementary and middle school science teachers to incorporate into the classroom or Earth Day.  Full of great ideas for recycling everyday objects and hands-on projects designed to make learning fun, these books are a wonderful addition to any elementary or middle school library.
745.5; Crafts & Hobbies; Recycling              Julie Ritter, Montoursville Area High School​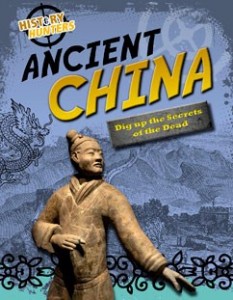 History Hunters. North Mankato: Capstone, 2017. $20.99 ea. $125.94 set of 6. 32p. Gr. 3-8.
Dickmann, Nancy. Ancient Egypt. 978-1-5157-2531-2.
Dickmann, Nancy. Ancient Greece. 978-1-5157-2535-0.
Dickmann, Nancy. Ancient Rome. 978-1-5157-2550-3.
Spilsbury, Louise. Ancient China. 978-1-5157-2525-1.
Spilsbury, Louise. The Mayans. 978-1-5157-2551-0.
Spilsbury, Louise. The Vikings. 978-1-5157-2552-7.
The History Hunters series uses archaeological discoveries to help illuminate and explain the history of several well known ancient civilizations. Numerous photos of archeological finds are used to supplement the text. Each volume covers topics such as religion, family life, work, housing, food, wars/conflict, and other basic information about the culture being presented. Sidebars entitled "Deadly Secrets" offer a photos, descriptions, and clues about specific finds in order to get the reader to correctly guess their purpose. A glossary is included in each volume.  THOUGHTS: Though each book in this set is a slim 32 pages, a great deal of knowledge is incorporated into the text. Readers will walk away with a basic understanding of the each civilization. Numerous photos of archaeological discoveries as well as historical images will add to the reader's overall understanding. A great choice for history fans.
900s; Ancient Civilizations     Elizabeth Henry, Lampeter-Strasburg HS/MS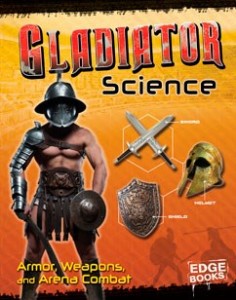 Warrior Science. North Mankato: Capstone, 2017. $20.99 ea. $83.96 set of 4. 32p. Gr. 3-8.
Lassieur, Allison. Gladiator Science: Armor, Weapons, and Arena Combat. 978-1-4914-8129-5.
Lassieur, Allison. Medieval Knight Science: Armor, Weapons, and Siege Warfare. 978-1-4914-8130-1.
Lusted, Marcia Amidon. Ninja Science: Camouflage, Weapons, and Stealthy Attacks. 978-1-4914-8115-8.
Lusted, Marcia Amidon. Samurai Science: Armor, Weapons, and Battlefield Strategy. 978-1-4914-8124-0.
Each volume of the Warriors Science series examines one of the most prominent and popular groups of fighters from world history. Types of weapons, protective gear and tactical strategies are discussed within the context of science. In order to emerge victorious, these historic warriors had to rely on scientific principles and knowledge to maximize the effectiveness of their weaponry and strategy. For example, medieval knights protected themselves with armor designed to disperse and absorb energy from the blows of enemy weapons. Knights also built weapons such as trebuchets, which relied on counterweights and the science of gravity. Each volume features numerous diagrams, photos and historical images designed to illustrate the science behind the history. In addition, phrases/words are defined throughout the text in order to increase clarity for the reader. THOUGHTS: These engaging reads are sure to be popular with upper elementary and middle school fans of military/weapons books. The science content is seamlessly and logically woven into the presentation of historical events and the soldiers/fighters under discussion.
Military Science, History    Elizabeth Henry, Lampeter-Strasburg HS/MS