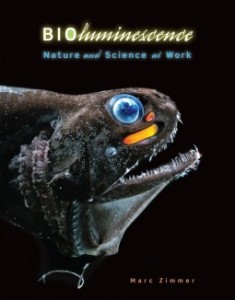 Zimmer, Marc.  Bioluminescence: Nature and Science at Work.  Minneapolis: Twenty-First Century Books, 2016.  978-1-4677-5784-3. 72 p.  $26.00.  Gr. 7 and up.
This engaging title begins with an overview of bioluminescence in the animal kingdom, explaining its use as a communication, defense, and survival mechanism for animals, describing experiments that have been done on bioluminescent species, and explaining what we have learned about bioluminescence from these experiments.  Then, the author goes on to describe ways in which bioluminescence is being used in scientific studies.  For example, scientists who require sterile conditions for lab research use bioluminescence to test for the presence of bacteria; if bacteria is present, their lab surface will glow.  Scientists are also using bioluminescent proteins in medical studies to learn more about cancer, HIV, Alzheimer's disease, malaria, and other viruses and diseases.  Color photographs, diagrams, and sidebars are dispersed throughout the text, and a glossary, source notes, bibliography, reading list, and index are all included.  A concise introduction to a complex topic, the author does an excellent job of presenting highlights about bioluminescence and explaining their applications and importance to the field of science.  THOUGHTS: Although I do not view myself as a science person, this book proved very interesting to me.  Not only were the concepts broken down so they were easy to understand, but there were many tidbits of information throughout the book that were actually very intriguing.  For example, I learned that females of some species of fireflies, unlike their male counterparts, do not have lucibufagin, a poisonous chemical that can be released when challenged by a predator.  To make up for this, they will actually eat a male firefly from a different species in order to take in his lucibufagin and increase their chances of survival. Full of interesting facts like this, this book would be a solid addition to any high school science collection.
572; Bioluminescence      Julie Ritter, Montoursville Area High School
Freedman, Russell. Vietnam: A History of the War. New York: Holiday House, 2016.  978-0-8234-3658-3.150 p. $20.00. Gr. 7 and up.
In this concise overview of the Vietnam War, Freedman begins with an examination of Vietnam's history, presenting its struggles for independence against the Chinese, the French, and the Japanese.  He then goes on to explain how America became involved in Vietnam.  Throughout this explanation, Freedman explores many key figures (such Ho Chi Minh and multiple U.S. presidents) and major events (such as the Gulf of Tonkin incident, the My Lai massacre, the Kent State shootings, and more).  Freedman then concludes with a chapter on the relationship between the U.S. and Vietnam today and presents valuable lessons that were learned from America's most controversial war.  Black and white period photographs are interspersed throughout the text, and a timeline, source notes, glossary, bibliography and index are included.   THOUGHTS:  Compared to much of the narrative nonfiction on the market these days, this title is very straightforward and even a little dry at times.  However, there have not been many excellent resources published on this topic in recent years, and the fact that this book comes from an author who has written many award-winning titles makes it all the more appealing.  Given that it is concise (yet thorough) and easy to understand, I feel that this would be a solid addition to any middle or high school library collection.
959.704; Vietnam War         Julie Ritter, Montoursville Area High School​
Freedman, Russell. Vietnam: A History of the War. New York : Holiday House, 2016. 978-0-8234-3658-3. $20.00. 160 p. Gr. 6 and up.
A look back at the disastrous and divisive war America fought in Vietnam, Vietnam describes the turbulent history of the Vietnamese people under the rule of a long list of invaders and reviews the actions which led to the growing military involvement of the United States in Vietnam at the height of the Cold War along with the impact of the protests of the American people against the unpopular war.  The final chapter provides an update on the current positive political situation between the two nations. The book features many of the iconic photos of the war front and the protests at home. Includes chapter notes, timeline, bibliography, and index. THOUGHTS: Well-written and well-researched, a perfect choice for investigation into a turbulent period in American history. The narrative style makes a difficult topic readable for middle grades and older students.
U.S. History               Nancy Summers, Abington Senior High School