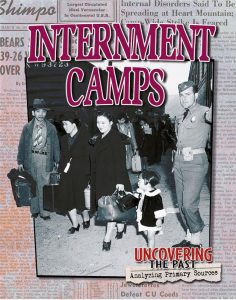 Hyde, Natalie. Uncovering the Past Analyzing Primary Sources. New York: Crabtree Publishing Co., 2017.  $31.32 ea. 48 pp. Gr. 5-8.
Internment Camps. 978-0-7787-28603.
Black Tuesday and the Great Depression.  978-077871721.                                                               
Civil Rights.  978-0778717225.                                                                                                        
The Cold War and the Cuban Missile Crisis.  978-0778725725.                                                                                                                                                                   
The Displacement of Native Peoples.  978-0778725718.                                                                      
The Holocaust.  978-0778715481.                                                                                
Immigration. 978-0778715542.                                                                                                     
The Underground Railroad.  978-0778715511.                                                                             
Women's Suffrage. 978-0778715535.                                                                                       
Workers' Rights.  978-0778728634.
This series of short but information packed titles covers significant events in United States history. The focus of these titles is on examining and analyzing the evidence of primary and secondary source material to interpret and understand historic events. Internment Camps tells the story of the internment of Japanese Americans as enemy aliens during World War II and features photos, excerpts of news articles, political cartoons, government documents and more as evidence.   Each section has information about the types of sources featured, the context of the source material and the possible biases presented.  Text boxes and sidebars feature questions to inspire students to think critically about the reasons for and the effects of the U.S. policies towards Japanese Americans after the bombing of Pearl Harbor. Includes a bibliography of print and internet sources, glossary and index.   THOUGHTS: This series would be an excellent source for teachers and librarians to use in class to incorporate information literacy skills with social studies.
U.S. History       Nancy Summers, Abington Senior HS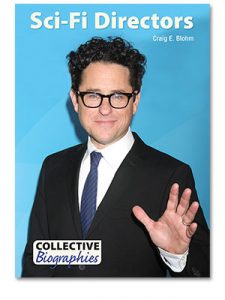 Blohm, Craig E. Sci-Fi Directors. Collective Biographies. (series) San Diego: Reference Point Press, 2017. 978-1-68282-030-8. $29.95. 80 pp. Gr. 5-8.
A reference series from Reference Point Press, Collective Biographies offers short concise overviews of the careers of popular culture figures in a range of fields. Sci-Fi Directors features six well known directors in the Science Fiction genre: Steven Spielberg, George Lucas, Stanley Kubrick, James Cameron, Christopher Nolan, and J.J. Abrams, The chapters highlight the filmmakers' personal lives, career achievements and struggles in snappy, vivid prose. The titles feature photos of the directors and scenes from their films and include side bars and text boxes with quotes and supplemental information that break up the text and provide visual interest.  With source notes, bibliography, and index. THOUGHTS: High interest independent reading selection for those who prefer non-fiction, this is a great titles for a starting point for career exploration.  Other titles include: Brand Empire Celebrities; Electronic Dance Music DJs; Great Cartoonists; Great Magicians and Illusionists; Internet Entrepreneurs; Women Scientists and Inventors; Women World Leaders; Young Adult Authors.
920 Biographies      Nancy Summers, Abington Senior HS