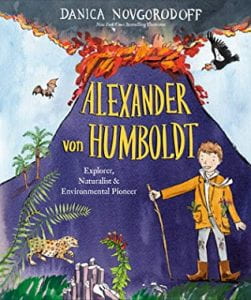 Novgorodoff, Danica. Alexander von Humboldt: Explorer, Naturalist & Environmental Pioneer. Crown Books for Young Readers, 2022.  978-1-524-77308-3. 39 p. $17.99. Grades K-3.
As a young boy growing up in eighteenth century Germany, Alexander von Humboldt was very curious about the natural world. He was full of questions and wanted to be an explorer like Captain James Cook. Alexander spent many hours outdoors and his observations led him to understand that animals, plants, and the weather are all connected to each other. So he studied science and prepared himself to travel to faraway lands. Von Humboldt's first voyage was to South America, where he found towering mountains, lush vegetation and unfamiliar animals and people. He soon realized that this New World was not all that different from his home and that he shared a lot in common with the indigenous people. The German explorer recognized that the volcanoes here were situated in a chain and he developed theories about why they erupt. He later wrote and lectured on his findings, thus earning the title of "Father of Ecology."  The author-illustrator includes a detailed author's note, maps, and a timeline in the back matter. Novgorodoff uses pencil and watercolor to create engaging illustrations and the text placement creates added interest.
THOUGHTS: This picture book biography is a great choice for ecology units or Earth Day storytimes. It may inspire young explorers to pursue a career in ecology. A must have for elementary collections.
921 Biography          Denise Medwick, Retired, PSLA Member
509.2 Natural Science-Biography