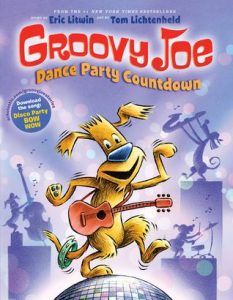 Litwin, Eric. Groovy Joe: Dance Party Countdown. Scholastic, 2017. 9780545883795. $16.99. 40p. Gr. Pre-K-1.
Eric Litwin teams up with illustrator Tom Lichtenheld in this picture book that has some simple math and a lesson to learn (there's always room for one more friend). Litwin's fame as the author of Pete the Cat will make this book popular. Groovy Joe is a dog that loves to play music and dance. Joe's motto is "the more the merrier." As friends knock at his door, readers can follow along with simple math problems as Joe invites everyone into the party. The end of the story includes an invitation to the reader to come join in the party, too.  THOUGHTS: The illustrations make this book. Lichtenfeld's colorful, bold illustrations will be a hit with this book's 3 to 5 year old audience. The theme of not excluding anyone in an important lesson to learn at an early age since that can be a problem at the K-6 school level. This book also includes a website to download the song that Joe sings throughout the book.
Picture book        Bridget Fox, Central Bucks SD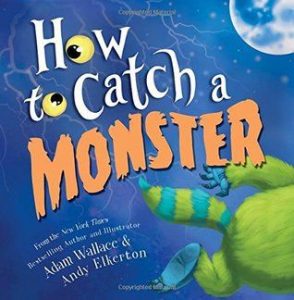 Wallace, Adam and Andy Elkerton. How to Catch a Monster. Sourcebooks, 2017. 978-1-4926-4894-9. Unpaged. $10.99. Gr. K-2.
What do you do when you get the role of a ninja in the school play?  Become one of course!  And not just any ninja; a monster catching ninja!  With the courage to trap the monster hiding in his closet, the ninja-monster-catcher meets his match.  After breaking the first few traps, ninja finally catches his monster and learns that his monster isn't trying to scare him; he just wants to play.  As ninja and monster play, and learn about one another, a friendship between them blooms.  Wallace uses rhyme throughout (although not all pages rhyme), and Elkerton's illustrations make the monster-in-the-closet come alive as a cuddly friend.  THOUGHTS:  This is a wonderful book to teach about friendship and how differences can be overcome.  
Picture Book     Erin Bechdel, Beaver Area SD
Berger, Samantha. Monster's New Undies. Ill. Tad Carpenter, Orchard Books, 2017. 978-0-545-87973-6. Unpaged. $16.99. Gr. PreK-2.
Monster loves his undies, but they have fallen apart.  He doesn't want new undies, but it's too cold without them, so it is time for Monster to get new ones.  At the store Monster doesn't like any undies until he finds ones just like his old ones.  These new undies allow Monster to be comfortable again.  THOUGHTS:  Although about underwear (which is just funny to students), Monster's New Undies can compare to any beloved item a student has and the feelings that occur when that item can no longer be used.  This book is a great read-aloud to writing about something students love that they have lost or had to get rid of because they are growing up.
Picture Book      Erin Bechdel, Beaver Area SD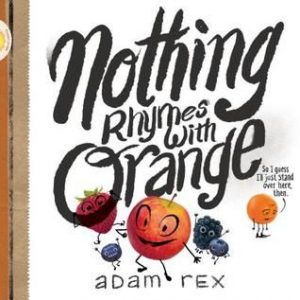 Rex, Adam. Nothing Rhymes with Orange. Chronicle Books, 2017. 978-1-4521-5443-5. Unpaged. $16.99. Gr. 1-3.
Unlike most fruits, nothing does rhyme with orange, and Orange knows this.  Although Orange tries to find a place in this rhyming poem, it just doesn't work because nothing rhymes with orange.  Fruits that Orange doesn't even know have rhyming words, but not orange that is until the other fruits create a word to rhyme with orange in order to make Orange feel apart of the fruit group.  Photographs of fruit with hand drawings to bring the fruit alive add to the fun of this rhyming poem and creative take on friendship and fitting in.  THOUGHTS: This is a very creative way to work with students on rhymes, nonsense words, and the importance of inclusion of everyone no matter their differences (or similarities…even if nothing rhymes with orange).
Picture Book     Erin Bechdel, Beaver Area SD