Lamothe, Matt. This is How We Do It: One Day in the Lives of Seven Kids from Around the World. Chronicle Books, 2017. 978-1-4521-5018-5. Unpaged. $17.99. Gr. K-3.
This is How We Do It introduces readers to seven children from seven different countries.  The children take readers through a typical day explaining who they are, where they live, their families, what they eat, how they dress, where they go to school, and what they like to do.  Each page is divided equally for each story, while also offering a "This is…" block that both introduces what the pages will cover and can be used in a lesson by having students consider their own experience in comparison to those of children their age around the world.  The illustrations are hand drawn and represent the people, places, and colors of each nation.  Lamothe includes notes at the end about his experiences traveling and the lives of these seven real children and a glossary to further explain some of the children's experiences.  Also included are the real pictures of each family that were illustrations earlier in the book.  THOUGHTS:  This is a wonderful book for introducing culture and different experiences around the world.  The last page with the night sky establishes that we aren't all that different; we still sleep under one sky.  This book can also be used for further study and research about other cultures and traditions.  On a personal note, I was blown away by the time that each child eats dinner.  Only one eats around 6 pm, everyone else is much later.
305.23; Cultures of the World      Erin Bechdel, Beaver Area SD
Lamothe, Matt. This Is How We Do It: One Day in the Lives of Seven Kids From Around the World.  Chronicle Books, 2017.  978-1452150185. $17.99  Unpaged.  Gr. K-3.  
Author and illustrator Lamothe shows in side-by-side pictures a day in the life of ordinary kids from seven different countries.  Kei from Japan; Ribaldo from Peru; Kian from Iran; Oleg from Russia; Ananya from India; Romeo from Italy; and Daphine from Uganda.  Endpapers show their locations on a world map.  Pages show where they live, with whom (in their family), what they wear to school (uniforms for four of the seven), food eaten for each meal, after-school activities (including "how I help"), and how they get to school.   This is an amazing look at the average day lived by a variety of kids in cultures around the world.  Words underlined (such as bechamel, abwooli, or sensei) are defined in a short glossary, and an author's note explains how Lamothe located these real families in order to show a regular day.  Photos of the families help to bring home the reality of the illustrations.  THOUGHTS: This is a strong addition to discuss geography or social customs with children.  
305.23 World Culture    Melissa Scott, Shenango Area SD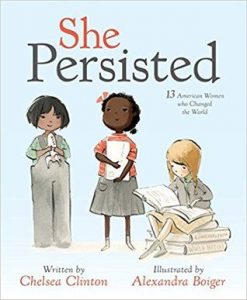 Clinton, Chelsea. She Persisted: 13 American Women Who Changed the World. Ill. Alexandra Boiger, Philomel Books, 2017. 978-1-5247-4172-3. Unpaged. $17.99. Gr. K-3.
"The right way is not always the popular and easy way.  Standing for right when it is unpopular is a true test of moral character," Margaret Chase Smith, one of the thirteen women who changed the lives of women (and at times their race) through their actions.  She Persisted shares the stories of Harriet Tubman, Helen Keller, Clara Lemlich, Nellie Bly, Virginia Apgar, Maria Tallchief, Claudette Colvin, Ruby Bridges, Sally Ride, Florence Griffith Joyner, Oprah Winfrey, and Sonia Sotomayor, many of whom elementary (and older students) are unfamiliar.  Although each story is just a brief summary of the greatness of these women, the continual use of "She Persisted" sticks with readers as a mantra.  Clinton ends this beautifully illustrated picture book with, "They persisted and so should you."  This simple message encouraging students to do more, achieve more, fight for what is right not only for your, but for others, is uplifting and important to teach students at a young age.  As Clinton writes, "So, if anyone ever tells you no, if anyone ever says your voice isn't important or your dreams are too big, remember these women.  They persisted and so should you."  THOUGHTS:  I love this book.  It highlights amazing women who many students are unfamiliar with or only recognize their names, not their accomplishments.  I like that the women are from all walks of life, young and old; black, white, and Native American; politicians and athletes; entertainers and astronauts.  It truly encompasses everything a woman can do.  This is a must have for all libraries.
One final note…Illustrator Alexandra Boiger includes a portrait of Hillary Clinton on the first page spread as the children visit a gallery of important and influential women.  Portraits and busts of those highlighted in the book are also included, along with children of all genders, cultures, and races.
Biography     Erin Bechdel, Beaver Area SD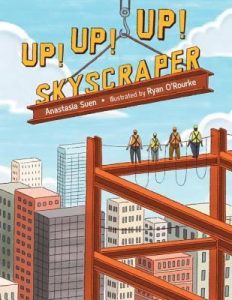 Suen, Anastasia. Up! Up! Up! Skyscraper. Ill. Ryan O'Rourke. Charlesbridge, 2017. 978-158089-7105. $16.99 Unpaged. Gr. K-3.
This book won't take much to sell it.  The highly popular construction site topic and the in-process building on the cover will have young children eagerly opening the book.  Inside they will find more detail than usual 'construction books' give including labeled items (concrete pile, rebar cage, pile driver, decking and more) and two blocks of text per page, one rhyming, and one explanatory.  One four-line rhyme reads, "Pour, pour pour! / A floor down low / The higher the building / the deeper we go" with an accompanying explanation, "Every building has a foundation, but tall buildings, like our skyscraper, need very thick foundations.  We pour concrete over a rebar frame to make the foundation."  The building suffers from simple glass panels ("where is the door?") and lack of detail, but the focus here is on the underlying framework of the building.  Multiracial male and female construction workers make the building grow as kids in construction hats look on.  THOUGHTS:  This is a welcome addition to nonfiction picture books about construction, and it explains the how and why, not just different vehicles.  This is a good choice for elementary and public libraries.
720, Construction      Melissa Scott, Shenango Area SD