Adler, David A. and Edward Miller, Ill. Money Math: Addition and Subtraction. Holiday House, 2017. 978-0-8234-2698-9. 32 p. $17.95. Gr. 1-3
A great book to fill in that 513 Dewey section in your library that might be languishing. Cartoon kids want to buy things but need to understand how money works first. In jump the Presidents who are on the different coins and bills and talk about how to add, then subtract money. Decimal points and coins are discussed, and the math in the book gets progressively harder the further you go.  THOUGHTS: I thought it was interested that they had half dollar coins in the book, but they didn't discuss the $1 Sacagawea coin.  Overall it's a good addition (pun intended) to the library, but not a must read.
Math; Money       Emily Woodward, The Baldwin School
Bolte, Mari. Project Passion (series). Capstone, 2018. 32 p. $20.99 ea. Gr. 4-6.
Bit by Bit:  Projects for Your Odds and Ends.  978-1-5157-7375-7.
Bought in Bulk:  Projects for Surplus Supplies.  978-1-5157-7376-4.
Create and Keep:  Projects to Hang On To.  978-1-5157-7373-3.
Share the Love:  Projects You'll Love to Give.  978-1-5157-7374-0.  
Bit by Bit:  Projects for Your Odds and Ends and Bought in Bulk: Projects for Surplus Supplies are similar titles that include simple craft projects that can be made using common household objects and leftover craft supplies.  The books include photographic illustrations for nearly every project, including variations on each project, and clear, easy-to-follow directions.  Most of the projects can be completed entirely by children, although a few do require adult supervision or assistance.  THOUGHTS:  These books are useful additions to a makerspace which often include many of the supplies needed. Recommended for upper elementary and middle schools needing to update their craft book collections.
Handicraft 745.5                Maggie Bokelman, Cumberland Valley SD
Dropping In On… Rourke Educational Media, 2017. 32 p. $23.00 each, $268.00 for set of 12. Gr. 3-6.
Barger, Jeff. Dropping In On…Atlanta. 978-1-68191-404-6.
Canasi, Brittany. Dropping In On…Boston. 978-1-68191-408-4.
Staton, Hilarie. Dropping In On…Chicago. 978-1-68191-406-0.
Greenspan, Judy. Dropping In On…Dallas. 978-1-68191-407-7.
Staton, Hilarie. Dropping In On…Denver. 978-1-68342-173-3.
Canasi, Brittany. Dropping In On…New Orleans. 978-1-68342-174-0.
Staton, Hilarie. Dropping In On…New York City. 978-1-68191-403-9.
Waxler, Melanie. Dropping In On…Orlando. 978-1-68191-402-2.
Nelson, Deb Tuttle. Dropping In On…Philadelphia. 78-1-68191-409-1.
Canasi, Brittany. Dropping In On…San Francisco. 978-1-68342-172-6.
Greenspan, Judy. Dropping In On…St. Louis. 978-1-68342-175-7.
Barger, Jeff. Dropping In On…Washington D.C. 978-1-68191-405-3.
Calling all travelers! The Dropping In On… series is ready to prepare students for their next big family vacation or city trip. Each title provides a basic historical overview of the title city, including facts on how that city was developed or discovered and information about major historical events impacting the city. For example, Dropping In On…St. Louis reviews the Louisiana Purchase and Lewis and Clark's explorations, while Dropping In On…New Orleans details New Orleans history both before and after the Civil War and the changes in laws and life felt by African Americans like schoolgirl Ruby Bridges. Series titles also focus on each city's landscape, parks, monuments, major sports teams, cultural history and attractions, and spots that every tourist must visit. Each book is packed full of beautifully colored photographs, often displayed in overlapping style like a traveler's scrapbook of photographs. Illustrated children hop into some photographs to point out interesting tidbits, similar to tour guides. Each book features a table of contents, city facts section, glossary, index, and before and after reading activities for educators. THOUGHTS: Not an essential purchase but an interesting, fact-filled introduction to several major US cities.
900s     Lindsey Long, Lower Dauphin SD
Abandoned Places (series). Bellwether Media, 2018. $19.95 ea. Set of 6 $119.70.  24p. Gr. 2 – 5.
Leaf, Christina. Machu Picchu: The Lost Civilization. 9781626176966.
Owings, Lisa. Craco: The Medieval Ghost Town. 9781626176959.
Owings, Lisa. Battleship Island: The Deserted Island. 9781626176935.
Owings, Lisa. Pripyat: The Chernobyl Ghost Town. 9781626176973.
Schuetz, Kari. Bodie: The Gold-Mining Ghost Town. 9781626176942.
Schuetz, Kari. Roanoke: The Lost Colony. 9781626176980.
This informative series checks all the boxes of a good non-fiction book: Table of Contents, Glossary, To Learn More, and Index. Some of the best features in this series are the maps showing where the site is located, and the timelines that are in each book. The full-color modern pictures with interspersed historical ones provide a good viewpoint for young learners. THOUGHTS: The reinforced library binding makes this series worth its cost. I liked all the features, and it's a series that won't be quickly outdated, so will have a long shelf life.
Nonfiction; Historical Places       Emily Woodward, The Baldwin School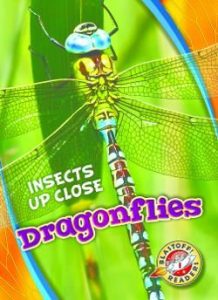 Perish, Patrick. Dragonflies. Bellwether Media, 2018. 9781626176621. $19.50. 24 p. Gr. K-3.
In this attractive early reader, Perish presents basic information about the dragonfly. Despite its length, the book is set up like a traditional nonfiction book with a table of contents, pictorial glossary, index, and bibliography.  The author gives the insect's physical description, habitat, diet and life cycle in a succinct manner, as is typical of books in the Blastoff Readers series.  The stunning photographs complement the text and the reader sees full-page images of the insect on each two-page spread. One can see why this particular series is called Insects Up Close after examining the pictures, like the one which shows the size of the dragonfly's eyes.  There are also some inset images, which are used to further explain such terms like nymph and molting.  Other interesting photographs include a dragonfly swimming underwater and one eating a mosquito.  Children will enjoy poring over the photos. This series includes a web resource called Factsurfer.  Readers are told to enter the term into the search box and get a list of websites.  One link from the San Diego Zoo did not have the referenced article and one site contained ads.  There are other books in the "Insects Up Close" series, which follow the same format.  Also examined were Cicadas, Grasshoppers, and Ladybugs.  THOUGHTS: This series is a great addition to any library collection serving children, despite the problem with the web resources. These texts would be useful in science units on insects and children will enjoy reading them for personal interest.  They are a good choice for emerging readers.
595.7  Science; Bugs            Denise Medwick, West Allegheny SD