Schlitz, Laura Amy. Princess Cora and the Crocodile. Candlewick Press, 2017. 978-0-7636-4822-0. $16.99. 74 p. Gr. 1-3.
Immediately upon her birth, Princess Cora's parents, the King and Queen, began educating their daughter to one day assume the crown. Cora is subjected to thrice-daily baths, a tedious exercise regime and hours reading boring books on how to run a kingdom.  Neither her nanny nor her parents will listen to any of Cora's objections to her daily routine. Even her request for a dog is soundly denied (dogs are dirty and time-consuming). Frustrated and at her wit's end, Cora writes a letter to her fairy godmother asking for a pet. Due to her lack of specificity, and apparently the godmother's wicked sense of humor, Cora is shocked to find she has been sent a crocodile. The crocodile smiles and tries to assure Cora he can eat everyone who annoys her. Cora tries to convince the crocodile that she does not wish him to eat her parents; she just wants a day off. So the crocodile dresses as Cora and takes her place, with predictably hilarious results. Beautiful illustrations throughout by Brian Floca add to the charm of the book. THOUGHTS:  A delightful story sure to charm beginning readers, and one no doubt appreciated by any child who feels over-scheduled.   
Easy Reader; Fiction       Nancy Nadig, Penn Manor SD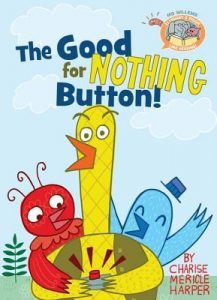 Harper, Charise Mericle.  The Good for Nothing Button! Hyperion Books for Children, 2017. 9781484726464. Unpaged. $9.99. Gr. K-2.
In this latest book in the Elephant and Piggie Like Reading! series, we meet three birds who are examining a red button that appears to have no function.  Yellow Bird declares that this button does nothing when pressed, but Blue Bird and Red Bird want to test it out for themselves.  Blue Bird feels a sense of surprise when he presses it, so states that the button does indeed do something.  Yellow Bird does not have the same experience and says that she actually feels sad.  The experimentation continues with Yellow Bird, who begins to feel angry, but the trio comes to realize that the button makes them seem funny.  This is a silly story, but one that will hold the interest of children and make them laugh out loud.  Yellow Bird shares some characteristics of Mo Willems' Pigeon, such as his tendency to become upset easily.  Elephant and Piggie are seen reading this book on the endpapers and title page. They introduce the story and encourage us to read it as they are doing. Pigeon is harder to find, but appears on the back cover.  Harper's illustrations of the birds are whimsical and are done in the cartoon style of Willems' drawings.   Thoughts:  This is a must-have for all elementary collections.  Emerging readers will enjoy the story as they develop their fluency skills.  Librarians will need to decide if they will place these with Willems' other books or classify them by the author's name.  The other two books in this series, The Cookie Fiasco and We are Growing!, are by different authors.
Early Chapter        Denise Medwick, West Allegheny SD