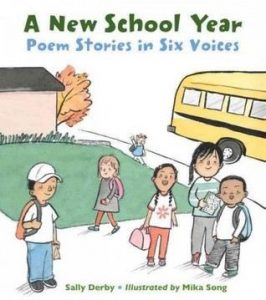 Derby, Sally. A New School Year: Stories in Six Voices. Charlesbridge, 2017. 9781-58089-730-3. $16.99. 48 p. Gr. K-3.
Six children, in grades K-5, anticipate the first day of school. Each child has unique concerns and fears for the coming school year, from insecurity to dealing with a male teacher ("Teachers at my school aren't called Mr.") to worrying about hearing aids and feeling racially isolated. Each child voices their fears, concerns, and experiences in bright, evocative poems. The story is divided into four snapshots: "The Night Before", "In the Morning", "At School", and "After School". Throughout the day, each child's anxieties are allayed, resulting in positive experiences across the board. Illustrations by Mike Song add to the book. A diverse set of characters, both students and teachers, add to the impact of the volume.  THOUGHTS:  A perfect read-aloud for the beginning of school, or as an introduction to poetry.
Poetry       Nancy Nadig, Penn Manor SD
Yolen, Jane. Thunder Underground. Wordsong, 2017. 978-1-59078-936-0. 32pp. $17.95. Gr K-3.
This poetry collection encourages young readers to explore the world beneath their feet. From tunneling insects to speeding subways, there's a whole hidden world below the ground. The poems broadly feature many different underground activities, such as basement treasure hunting, archaeological digging, and spelunking. Brightly colored spreads also feature burrowing moles, bubbling magma pools, and slowly expanding tree roots. There's plenty to savor in this title's rich mixed media illustrations, and the pictures extend many of the poems. Observant readers will enjoy spotting tiny ants, dinosaur bones, and buried treasure, and they will enjoy searching for the tiny mole and rabbit that accompany the main characters on many of their underground adventures.  THOUGHTS: Featuring more than 20 underground-themed poems, this poetry collection will pair well with nonfiction titles spotlighting underground creatures such as worms, prairie dogs, or ants. It can also supplement fiction titles as well, such as Denise Fleming's Underground.
Poetry      Anne Bozievich, Southern York County SD