Moon, Sarah. Sparrow. Arthur A. Levine Books, 2017. 978-1-338-03258-1 264p. $18.99.  Gr. 6 and up.
Sparrow is super shy and doesn't really like people.  She "checks out" of uncomfortable situations by watching birds and imagining she can fly.  Her refuge at school is the school library, but her librarian dies suddenly, leaving Sparrow adrift.  The book begins when she wakes up in the psych ward of the hospital after she is found on the school roof and everyone assumes she was going to jump.  Sparrow ends up in therapy, which is really helpful, eventually. She is exposed to music that really speaks to her.  Music becomes a new obsession.   She even ends up at a great summer camp where she learns to play the bass guitar.  The story ends with great hope for Sparrow's continued growth.  THOUGHTS:  This is a painful story to read, but an important one.  It is for all of our super shy kids.  It is for all of our black girl nerds.  It is for music lovers.  It is for all of us to build empathy for people in similar situations to Sparrow.
Realistic Fiction       Toni Vahlsing, Abington Friends School
Moon, Sarah. Sparrow. Arthur A. Levine Books, 2017. 978-1-338-02358-1. 272 p. $18.99. Gr. 7 and up.
For introvert and only child Sparrow, navigating her peers and the halls of her school has never been easy. She found "her place" in the library with Mrs. Wexler, the school librarian who knew just the right books to give Sparrow. In the quiet comforting space, Sparrow ate her lunch in the library with other book people but not really with them. The book opens as Sparrow wakes up in a white hospital room, after being found on her school's roof, apparently attempting suicide. No one believes that she really wasn't trying to kill herself. Sparrow isolates herself from her mom, the one person who used to understand her, and finds herself meeting with a therapist. Resentful of this invasion of privacy because she really wasn't trying to kill herself, Sparrow sits quietly through her therapy sessions. Oddly, Dr. Katz is perfectly willing to let Sparrow sit and be with her thoughts and some intriguing music. Eventually, Sparrow begins to trust Dr. Katz, and she pushes herself out of her comfort zone in an attempt to find an outlet for all that she is feeling.  THOUGHTS: This book really gets into the head of a girl dealing with mental health and anxiety issues. I'm not sure how much teens will like Sparrow's bird fascination, but the way she is able to connect with music on an intense emotional level will resonate. Sparrow's journey seems like a stretch, since she is initially found isolated on the school's rooftop and at the end she is healing and able to go so far out of her comfort zone.
Realistic Fiction   Maryalice Bond, South Middleton School District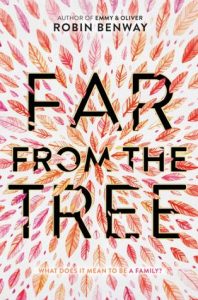 Benway, Robin. Far from the Tree. HarperTeen, 2017. 978-0-06-233062-8 374p. $17.99.  Gr. 9 and up.
Grace has had a tough year.  She became pregnant and chose an adoptive family for her baby.  Attending school during the pregnancy is tough, as she loses friends and is mocked in the hallways.  After the birth and seeing her daughter being taken home by someone else, Grace is adrift and wants to know more about her own birth family.  Grace's adoptive parents are supportive as Grace meets Maya and Joaquin, her biological brother and sister.  Maya has her own secrets as her adoptive parents fight all of the time and her mother drinks.  Joaquin has spent seventeen years in the foster care system and keeps all of his secrets as to not hurt anyone else.  This fast-paced story kept me turning pages to find out how the three of them would treat each other and handle all of the other things happening in their lives. All three siblings have romantic relationships that need some work.  THOUGHTS: This is a great read.   It explores the meaning of family, the complexities of secret-keeping, and the importance of letting other people in. A great purchase for a high school collection.
Realistic Fiction      Toni Vahlsing, Abington Friends School
Silvera. Adam. They Both Die at the End. HarperCollins, 2017. 9780062457790. $17.99. 384p.
Gr. 8-12.
What would you do if you knew you only had 24 hours left to live? This story follows two teenaged boys, Mateo and Rufus, who are Puerto Rican and Cuban-American respectively, on their End Day. In the future, you will receive a phone call from specially trained "Deckers" whose job it is to tell you that you will be dying soon. Fortunately, there is an app called Last Friend that allows people to connect with someone that will also die, which is how Mateo and Rufus finally meet after having to deal with a few believable trolling incidents from people using the Last Friend app. The reader follows along as the two teens try to make the most of their last few hours while also coming to terms with their impending death. Chapter titles countdown the time and include additional characters thoughts. THOUGHTS: I enjoyed the premise of this book – that one day you will find out that it is your last day on Earth. It's something that most people have thought about and can be a great way to focus on what is important in life. Silvera did away with pesky families so that the characters didn't want to just sit around with them on their last day. This sets the teens up to go out and have experiences together, which included developing a romantic relationship with each other. This will be another great book to add to your LGBT collection.
Dystopian     Bridget Fox, Central Bucks SD