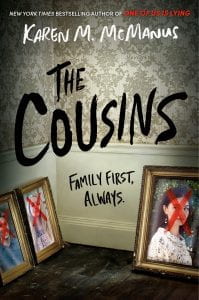 McManus, Karen M. The Cousins. Delacorte Press, 2020. 978-0-525-70800-1. 336 p. $22.99. Grades 7-12.
It begins with a most unexpected letter. Teen cousins Aubrey, Milly and Jonah are invited to spend the summer on Gull Island, the resort home of their wealthy WASP grandmother, Mildred Story, the woman who, decades before, cut off all contact with her children, enigmatically telling them, "You know what you did." Except the three brothers and their sister have always denied knowing what their mother meant. Now the adult siblings, encouraged by this gesture, bribe, threaten, and cajole the cousins to accept the offer, for a variety of personal reasons, including, but not necessarily limited to, possible access to the immense Story fortune. Sweet Aubrey, bearing a traditional Story family name; sophisticated Milly, named after her grandmother; and extremely disgruntled Jonah meet up on the ferry ride to the island, pondering what the summer will hold. None of them envisions the events that unfold. But when one of the first people they encounter on the island tells them "you shouldn't have come back," the cousins become reluctant allies, uncovering lost family history and learning exactly what happened all those years ago. McManus presents another tour de force with her fourth young adult mystery. This character driven plot has the feel of a classic Agatha Christie. Breathtaking suspense takes a back seat as Aubrey, Milly, and Jonah, burdened with parental legacies, expectations, and disappointments, cautiously open up to each other, shedding secrets and personas molded by family legacy. Plot twists keep the reader guessing until the tempestuous climax, but the journey is the true star in this book.
THOUGHTS: McManus just keeps getting better. A first purchase for all middle school and high school collections, and multiple copies will be needed. 
Mystery          Nancy Nadig, Penn Manor SD
Cousins Milly, Aubrey, and Jonah Story did not grow up enjoying extended family vacations on Gull Island or at the resort home of their wealthy grandmother. Instead each has had to deal with a parent who is still – years later – dealing with the fallout of being disinherited by their mother, matriarch Mildred Story. Cut off with only a message of "You know what you did." the story children are left to fend for themselves which, given their upbringing, they were not prepared to do. When the cousins each receive a postcard from their grandmother inviting them to work on Gull Island's resort for the summer, they have mixed reactions. Their parents, however, insist. It's the opportunity to get back into their mother's good graces, and they've been waiting decades. Forced together, the cousins arrive on Gull Island only to be told they "shouldn't have come back." They bond together to make the best of their circumstances and learn more about the family they never got to know.
THOUGHTS: This one will keep readers guessing, and fans of McManus's other books will be happy with this new mystery. A must have for middle and high school libraries.
Mystery          Maryalice Bond, South Middleton SD
Twenty-four years ago the Story children were disowned by their mother, Mildred. The children, Adam, Asher, Allison, and Archer received a note with just five words: "You know what you did." The problem was, and still is, that none of them know what the note means.  Now, 24 years later, the children of Adam, Asher, and Allison received letters inviting them to Gull Coast Island on behalf of their estranged grandmother to work in the resort's Towhee program. The cousins have not seen each other in years, so when Milly, Aubrey, and Jonah meet up on the ferry to Gull Coast Island, it is as though they are meeting for the first time. As they are introduced to their new boss, Carson, their grandmother arrives and appears very surprised to see them. When Mildred immediately leaves for two weeks, Milly, Aubrey, and Jonah begin to question the entire situation. Who sent the letters inviting them to Gull Coast Island? Why is their grandmother so elusive? What happened over 20 years ago that has kept their grandmother away? But, it isn't until they are finally introduced to Mildred and a night out that the cousins truly begin to delve deep into the history of the Story family. Told through alternating chapters from Milly, Aubrey, Jonah, and Allison in 1996, The Cousins looks at secrets kept to protect family and secrets hidden to expose mistakes.
THOUGHTS: Karen M. McManus once again weaves a thrilling tale of lies, secrets, and deceit.  Mystery and detective fiction lovers will devour this novel.
Mystery        Erin Bechdel, Beaver Area SD