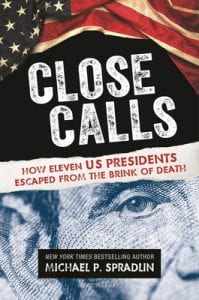 Spradlin, Michael P. Close Calls: How Eleven US Presidents Escaped from the Brink of Death. Bloomsbury, 2020. 978-1-5476-0023-6. 116 p. $18.99. Grades 5-8.
While many authors have told the stories of the untimely deaths of American Presidents, author Michael Spradlin has chosen to focus on the lesser known tales of Presidents who narrowly escaped death during their lifetimes in Close Calls. Each action-packed chapter focuses on an event when a President (or future President) nearly lost his life. Some examples of near misses include: George H.W. Bush being shot down and nearly captured during WWII, Andrew Jackson avoiding death when both(!) pistols an assassin shot at him misfired, and Theodore Roosevelt narrowly escaping death when an assassin shot him, only to have the bullet stopped by a folded speech Roosevelt was carrying. The text is supplemented by the inclusion of sidebars explaining historical events of the time(s) or biographical sketches of persons involved in the story. 
THOUGHTS: This engaging title is sure to be a hit with biography and history readers, as well as readers who enjoy action-packed, adventure-type stories. Highly recommended.
973 American History            Elizabeth Henry, Lampeter-Strasburg SD