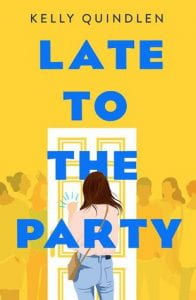 Quindlen, Kelly. Late to the Party. Roaring Brook Press, 2020. 978-1-250-20913-9. 297 p. $17.99. Grades 9-12. 
Codi is comfortable in her bubble, content to do her own thing with the same friends she's had since elementary school, Maritza and JaKory. That is until her little brother almost has his first kiss before she does. Realizing that she is already seventeen and about to enter her senior year of high school, Codi fears her chance to be a 'normal' teenager is slipping away. Hesitant at first, she begins to break out of her comfort zone little by little, meeting new friends, going new places, and even experiencing her first party. All the while tensions with Maritza and JaKory continue to rise. Can Codi be the friend she once was while still discovering new things? Can she be two people, the quiet artistic girl and the social teenager, at once? Will there be room enough in her life for life?
THOUGHTS: Late to the Party is a satisfying exploration of what it means for interests and relationships to grow as you get older, a reflection of an utterly relatable internal conflict.
Realistic Fiction          Samantha Helwig, Dover Area SD
Cori's summer before her senior year of high school starts just like every other summer for the last several years – a trip to the community pool with her two best friends, Maritza and JaKory, followed by movies in her basement. Cori wonders what it must be like to be one of those normal "wild teenagers" and if she and her socially awkward friends will ever actually act like teenagers before they graduate. She and JaKory haven't even had their first kiss yet, and not being straight makes navigating dating even more tricky for this trio. When they pick up Cori's younger brother from what looks like a date at the movie theater, the thought of him getting his first kiss before any of them is too pathetic to handle. To remedy this, Maritza and JaKory decide they should crash a party in their neighborhood. Cori, true to her predictably boring norm, decides not to join them. But when Maritza and JaKory get drunk and text her for a ride home, Cori begrudgingly shows up to rescue them. Little does she know, this sets a summer's worth of events into action. Walking up to the house, Cori catches Ricky – host of the party and "normal" popular jock teenager – kissing a boy behind some bushes. Cori's promise to Ricky not to tell anyone forges an unlikely friendship that introduces her to a whole new group of friends, "normal" teenager activities, and maybe, hopefully, her first kiss. Cori finally feels like a "normal" teenager… and Maritza and JaKory have no idea it's happening because Cori never tells them.
THOUGHTS: This book has it all: family, friendship, and romance. Readers who identify with Cori's shyness and insecurities will appreciate her honest, revealing, and authentic voice as she grapples with many internal struggles faced by both gay and straight teens. Speaking of authenticity, it would be difficult to explore typical "wild teenager" behavior without instances of alcohol and marijuana use. While this does occur in Late to the Party, the characters are not typically reckless about it. Cori is not out to her parents, but this is not a coming out story. It's a story of emotional growing pains and self-discovery, but in a very non-cliche way. This is a must-have for the YA readers looking for LGBTQ+ books.
Realistic Fiction          Sarah Strouse, Nazareth Area SD