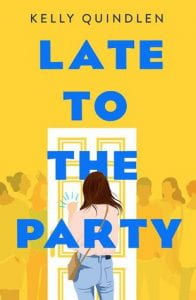 Quindlen, Kelly. Late to the Party. Roaring Brook Press, 2020. 978-1-250-20913-9. 297 p. $17.99. Grades 9-12. 
Codi is comfortable in her bubble, content to do her own thing with the same friends she's had since elementary school, Maritza and JaKory. That is until her little brother almost has his first kiss before she does. Realizing that she is already seventeen and about to enter her senior year of high school, Codi fears her chance to be a 'normal' teenager is slipping away. Hesitant at first, she begins to break out of her comfort zone little by little, meeting new friends, going new places, and even experiencing her first party. All the while tensions with Maritza and JaKory continue to rise. Can Codi be the friend she once was while still discovering new things? Can she be two people, the quiet artistic girl and the social teenager, at once? Will there be room enough in her life for life?
THOUGHTS: Late to the Party is a satisfying exploration of what it means for interests and relationships to grow as you get older, a reflection of an utterly relatable internal conflict.
Realistic Fiction          Samantha Helwig, Dover Area SD