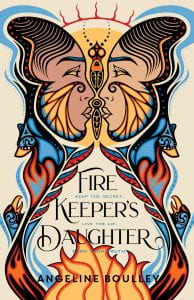 Boulley, Angeline. Firekeeper's Daughter. Henry, Holt, and Co. 2021. 978-1-250-76656-4. $18.99. 496 p. Grades 9-12.
Daunis Fontaine, a recent high school graduate and former hockey star, lives in two different worlds. Set in Michigan's upper peninsula, her Fontaine world includes her mother, grandmother, and recently deceased uncle, but she's also half Anishinaabe. Her father was a part of the nearby Ojibwe tribe, and although she's not an official member, the family and friends she has there mean just as much to her. After witnessing the murder of her best friend, Daunis decides to go undercover and help with a criminal investigation in order to save her tribe members from any further corruption. As the mysteries of the investigation unfold, she discovers some awful truths about the people she thought she knew and trusted, and it will take all of her strength to persevere without ruining her own life and relationships in the process.
THOUGHTS:  This debut novel gives readers a glimpse into modern, Native American culture along with traditions and beliefs unique to the Anishinaabe people, specifically an Ojibwe tribe located in the upper peninsula of Michigan. The author shines light on both the positive and negative aspects of life among the tribe, specifically a methamphetamine problem and the effect the drug is having on their community. Firekeeper's Daughter is a thrilling and intense story that touches on sensitive issues including murder, addiction, grief, and sexual assault and a complex, main character who must find the strength to overcome the many obstacles in her life.
Realistic Fiction          Emily Hoffman, Conestoga Valley SD