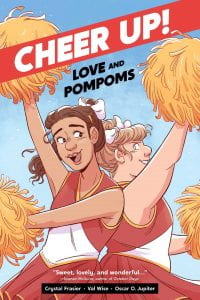 Frasier, Crystal, and Val Wise, illustrator. Cheer Up: Love and Pompoms. Oni Press, 2021. 978-1-620-10955-7. 128 p. $14.99. Grades 7-10.
Annie Ginter is a stand-out student, but her "lopsided" transcript lacks clubs, sports, and other extracurriculars. In an effort to improve Annie's teamwork skills, her mom encourages her to go out for cheerleading. Beatrice ("Bebe") is a very popular, people-pleasing trans girl. Her parents only will allow her to continue her transition if she maintains excellent grades. The two girls, who were close friends as children, become reluctant allies as they realize that they can help each other with their respective problems. Annie tutors Bebe in history, while Bebe assists with Annie's physical conditioning and interpersonal skills. As they spend more time together, a romance blossoms. This impressive graphic novel delivers a fresh spin on an opposites-attract story arc, and illustrator Val Wise depicts each character in the diverse ensemble cast with unique details and a distinct personality. Cheer Up also addresses issues such as consent, boundaries, agency, and microaggressions organically within the storyline
THOUGHTS: A sports angle, a very Gen Z romance, and a Homecoming Day to remember make this a widely appealing graphic novel!
Graphic Novel          Amy V. Pickett, Ridley SD