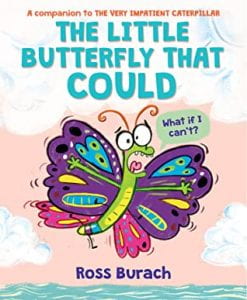 Burach, Ross. The Little Butterfly That Could. Scholastic, Press, 2021. 978-1-338-61500-5 p. 40. $17.99. Grades K-3.
In Ross Burach's The Very Impatient Caterpillar, we met a very dramatic yet adorable caterpillar-turned-butterfly. The little critter learns the importance of patience in a STEM-friendly picture book that integrates facts on metamorphosis. Fabulous news! Our favorite impatient butterfly is back in Ross Burach's companion tale titled: The Little Butterfly That Could. In this comical picture book, our adorable butterfly is distressed and anxious as ever as the realization sets in that he must migrate 200 miles away. Lucky for him, he meets a gentle and encouraging whale that helps the butterfly build confidence to start his migration journey. Armed with new tools, the butterfly learns a lesson in perseverance and resilience.
THOUGHTS: Ross Burach's second tale of this silly caterpillar-turned-butterfly will elicit giggles and laughs with every age reader! Written through dialogue from each character, the story will appeal to Mo Willlem fans while teaching STEM-related themes in science. A great companion to any school or classroom library!
Picture Book          Marie Mengel, Reading SD