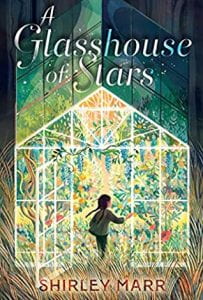 Marr, Shirley. A Glasshouse of Stars. Simon & Schuster Books for Young Readers, 2021. 978-1-534-48883-0. 246 p.  $17.99. Grades 4-6.
Meixing has just arrived in a New Land to live in a New House with her parents. She and her mother and father have traveled from the Old Land to live with First Uncle, but he passed away only weeks before their arrival and now they are adrift in a strange place, not quite speaking the right language and not quite understanding the right customs. When tragedy strikes Meixing's family, she retreats into the backyard of her new home and discovers a magical world hidden away in a broken down greenhouse where the ghost of First Uncle helps her discover her inner strength. Meixing displays incredible courage in the face of xenophobia in her new school as she tries to learn her place in this New Land, but new friends and an understanding new teacher also help her overcome her family's difficulties as they begin to build a life in the New Land.
THOUGHTS: This story offers a unique glimpse into the struggles of immigrant children who deal with poverty, discrimination, and cultural miscommunication. The magical realism in this book provides Meixing with a symbolic escape from her troubles and a way to process her feelings with the help of her family, and adds a beautiful, lyrical layer to the storytelling. This story would be an excellent addition to studies about the immigrant experience, and should be added to collections with a focus on immigrant experiences and diverse voices.
Realistic Fiction          Erin Faulkner, Cumberland Valley SD