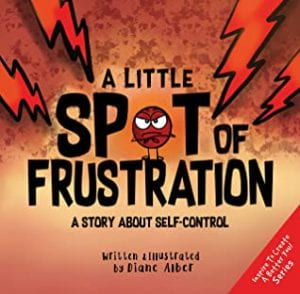 Alber, Diane. A Little Spot of Frustration: A Story About Self-Control. Diane Alber Art LLC, 2021. Unpaged. 978-1-951-28764-1. $11.99 (paper) Grades K-2. 
The book opens with Flexible Thinking Spot and Calm Spot introducing themselves to two children, explaining that they can help when a Frustration Spot shows up. Frustration Spot shows up when something happens that we can't control, and it can be good, because it can show that we are learning or being challenged. But because it can turn into an Angry Spot so quickly, it's important to know how to help a Frustration Spot. Flexible Thinking Spot and Calm Spot show the two children a token with a special message on each side. One side, labeled "Frustration Flip," lists some things we can't control: "what others say, what others do, the weather, the future, and others' mistakes.'  The other side, labeled "Calm and In Control," lists some things we can control: my words, my actions, my attitude, my expectations, my choices, and my effort. With a diagram of the body, the two Spots share four warning signs of: Feel hot! Feel like yelling! Upset stomach, or Pounding heart. They explain that if we feel any warning signs, it's time to do a Frustration Flip. While holding the Frustration Flip in one hand, count to four and repeat a rhyme to give your mind a chance to calm down. The Spots then practice the Frustration Flip in several situations.  The final page has a Frustration Flip that can be cut out, or accessed and printed from the author's webpage (with lesson plans). 
THOUGHTS: This book gives specific details to identify feeling frustrated, and a specific response to help calm down or think flexibly about a situation. It would be ideal for social-emotional learning in the classroom or individually.  
Note: A colleague with young children told me about this resource and shared with me how helpful it had been in talking with her own children (one teen, a 5-year-old, and a two-year old) because their questions brought out more examples and understanding. Diane Alber writes and illustrates this large series of "Little Spot" books, which began with eight "Little Spot of Emotion" books (Anger; Confidence; Happiness; Peaceful; Sadness; Anxiety; Love; Scribble Spot). The series has expanded to three more sets of eight books (and still growing). "A Little Spot Takes Action" set includes: Respectful; Responsibility; Kindness; Patience; Diversity; Organization; Honesty; and Safety. "A Little Spot of Life Skills" Set includes: Perseverance; Teamwork; Optimism; Courage; Thankful; Giving; Talent; Creativity. "A Little Spot of Feelings" Set includes: Empathy; Frustration; Calm; Belonging; Worry; Boredom; Flexible Thinking; Feelings Detective). Educator's Guide, Plush Toys–it encourages mindfulness and may be worth sharing with your teachers and counselors.  
Picture Book          Melissa Scott, Shenango Area SD