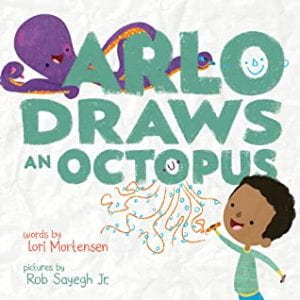 Mortensen, Lori. Arlo Drans an Octopus. Abrams Books for Young Readers, 2021. 978-1-419-74201-9. $16.99. Grades K-3.
Arlo likes to draw. One day he decided to draw an octopus because he likes them. Arlo begins to draw when he realizes that it does not look quite right. He continues to draw, only to realize that everything he is drawing does not look right. In fact, this is the worst octopus drawing ever! In his frustration, Arlo throws his drawing, only to remember that he should not litter. As he goes to pick up his drawing, he picks up someone else's drawing and someone else has his! As he stares at the drawing of a boy, he realizes that an octopus has drawn it and it is fantastic! What will the octopus think of Arlo's drawing?
THOUGHTS: A fun picture book on confidence and realizing that although we are not perfect, we can still create amazing things!
Picture Book                        Rachel Burkhouse, Otto-Eldred SD