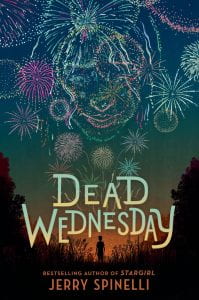 Spinelli, Jerry. Dead Wednesday. Alfred A. Knopf, 2021. 978-0-593-30667-3. 227 p. $17.99. Grades 6-8.
Every year in Ambler Springs there comes a day, Dead Wednesday, when students are given the name of a high school teenager who lost their life due to something that was preventable. On this day 8th grade students are given a black t-shirt to wear and are ignored by everyone in the town for the day. While Robbie, also known as Worm, is anxious for this day, his friend Eddie can't wait for the chaos that will ensue. Students are given a random card with a name and a brief bio of the deceased in the hopes that they understand that this could happen to them if they do not make smart choices. What Worm didn't expect to happen was that Becca, his assigned dead 17 year old student, would actually come back and pester Worm to come out of his shell. As Worm learns of Becca's story, he also discovers that sometimes you have to use your voice and be true to yourself. The two use the day to explore what it means to be a teenager in a warm, coming of age story. 
THOUGHTS: For a Spinelli book, it was not what I expected! Filled with teenage awkwardness and a ghost who flirts with a human, this book was different from his others. A perfect novel for those who hang in the shadows and would rather not be seen, but can learn that being who you are is more important. 
Fantasy (Paranormal)          Jillian Gasper, Northwestern Lehigh SD