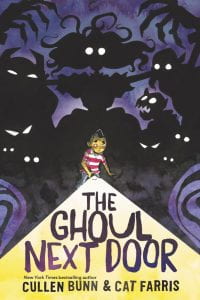 Bunn, Cullen. The Ghoul Next Door. Harper Alley, 2021. 978-0-062-89610-0. 192 p. $21.99. Grades 4-8.
In Ander's Landing, eleven year old Grey is excited to bring his scale model of the local cemetery to school for a project. Grey and his friend Marshall head off when Grey has the idea to take a shortcut through the cemetery. Marshall disagrees, and when Grey heads out by himself, he trips and his model drops into a giant hole where a creepy hand snatches it. Given a second chance by his teacher, Grey stays up to make a new model when a scratching at his window distracts him and causes him to stay up all night. The next day when Grey displays his model, his teacher finds real bones inside the coffins and mausoleums. Then night after night "gifts from the dead" appear in Grey's room – a doll, a brush made out of bones, and more. When Grey takes the gifts back to the cemetery, he meets the gifter, a ghoul named Lavinia. Lavinia visits Grey and takes him on a tour of the haunted places of Ander's Landing to teach him history and make him more aware of the dangers that lurk in the cemetery. However, when his friend Marshall is taken to the underworld as punishment for seeing Lavinia, the pair must work together to rescue him from the other ghouls, also known as the "eaters of the dead.'. 
THOUGHTS: The perfect amount of creepy and spooky for middle level readers. The panels are easy to follow and beautifully drawn – even for ghouls! The story flows from page to page and will leave readers on the edge of their seat.
Graphic Novel        Jillian Gasper, Northwestern Lehigh SD