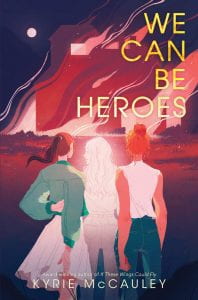 McCauley, Kyrie. We Can Be Heroes. Katherine Tegen Books, 2021. 978-0-062-88505-0. 368 p. $17.99. Grades 8-12.
The town of Bell is known for one thing – it's firearms. When the heir to the company goes into his school and shoots his ex-girlfriend Cassie and then himself, the town moves on – just a bit too quickly. Beck, Cassie's long time friend, is angered that people turned a blind eye to what happened. Beck decides to paint murals in and around the town to bring attention to the tragedy. After the first mural, Cassie (in ghost form) visits Beck in her VW van, determined to find closure. Along with Cassie's other friend, Vivian, the trio set out to bring Cassie justice with just a touch of vengeance. Planning out the themes of their murals, gathering supplies, and finding the perfect location get harder as more attention is given to the art. Things get a bit complicated when a podcaster hears of the murals and starts investigating Cassie's murder and the Bell family. But their time is running out as local law enforcement start closing in on who is responsible for the murals that depict Greek myths and the haunting connection to Cassie's death. 
THOUGHTS: In McCauley's second novel she chooses various writing styles to complement each character's story. Cassie's story is told in verse, Vivian and Beck in prose, and the podcaster in a script style. This was a heartbreaking story to read, but did a beautiful job of bringing attention to gun violence and domestic abuse. 
Realistic Fiction          Jillian Gasper, Northwestern Lehigh SD
Fantasy (Paranormal)