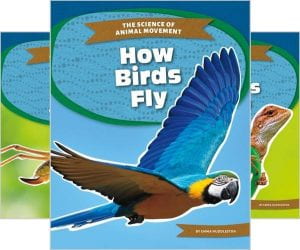 Huddleston, Emma. The Science of Animal Movement. Abdo. 2021. Book: $21.95, Series of 6: $131.70. Grades 2-5.
How Birds Fly. 978-1-532-19292-0.
How Bugs Jump. 978-1-532-19293-7.
How Critters Climb. 978-1-532-19294-4.
How Fish Swim. 978-1-532-19295-1.
How Mammals Run. 978-1-532-19296-8.
How Snakes Slither. 978-1-532-19297-5.
The Science of Animal Movement series describes how animals are able to move depending on their body, size, and its surroundings. The Reviewer read How Birds Fly, focusing specifically on birds. How Birds Fly provides information on how the wide category of birds can move in a variety of ways. From the largest of birds, to the smallest, coast to coast and in every possible biome, birds are found and able to move differently compared to others of the same type.
THOUGHTS: This series provides great information on the science behind the movement of animals. The books come with several different information pieces, including large photographs, colorful text, links & QR codes, diagrams, charts, and more.
500s          Rachel Burkhouse, Otto-Eldred SD