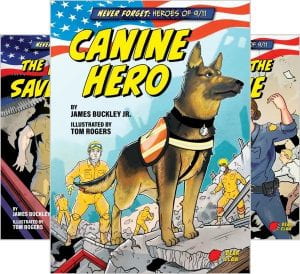 Buckley, Jr., James. Never Forget: Heroes of 9/11. Bearport Publishing, 2022. 24 p. $20.00 ea. $120.00 set of 6. Grades 3-5. 
Canine Hero. 978-1-636-91025-3.
The Doctor Saves the Day. 978-1-636-91026-0.
EMS to the Rescue. 978-1-636-91028-4.
Fighting back in Flight. 978-1-636-91027-7.
Guiding Light. 978-1-636-91023-9.
Tale of Two Marines. 978-1-636-91024-6.
Heroism, helping in any way possible, and acting bravely in the face of danger are the themes emphasized in this nonfiction title about the September 11 Terrorist Attacks. This graphic nonfiction comic is one of six in the "Never Forget: Heroes of 9/11" series. The narrative nonfiction style of writing, as well as the colorful comic-style panel illustrations, will engage reluctant readers. The fast-paced action also will keep readers hooked. The story focuses on two former United States Marines who each feel compelled to do what they can to help on the day of the attacks. Both arrive at the World Trade Center and immediately begin searching for people who are trapped in the collapsed rubble. As a team, they look out for each other's safety while also combing the debris for survivors. A backmatter section titled "A Day Like No Other" includes five paragraphs about the September 11 Attacks as well as real photographs of the World Trade Center, the Pentagon, and the Flight 93 Crash Site. A section titled "Other Ground Zero Heroes" features two other ordinary people who jumped into action on September 11. Other backmatter includes a Glossary, Index, and sections with additional book and online resource recommendations.
THOUGHTS: This is an age-appropriate, easily accessible title to share with students as they learn about the September 11 Terrorist Attacks. The focus of the book is on the heroic efforts of ordinary people in the face of extreme danger and uncertainty, not on the attackers' motives or politics.
Nonfiction Comics          Anne Bozievich, Southern York County SD
973.931 United States History