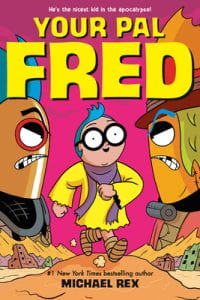 Rex, Michael. Your Pal Fred. Viking Press, 2022. 978-0-593-20633-2 255p. $12.99. Grades 3-8.
Fred is activated in a post-apocalyptic world after two brothers accidentally discover him in a pile of trash. Fred embarks on a journey over a land that has been destroyed by war, aliens, a comet, and cats. It is now ruled by two opposing characters: Papa Mayhem and Lord Bonkers. Fred is on a quest to bring peace to all. Along the way he makes friends with disgruntled characters who join him to bring kindness to all. Will he be able to convince the two top dogs that peace is the answer and not war? 
THOUGHTS: This graphic novel is full of silliness and fun, and how one individual can create a positive chain reaction through one act of kindness at a time.  
Graphic Novel          Victoria Dziewulski, Plum Borough SD