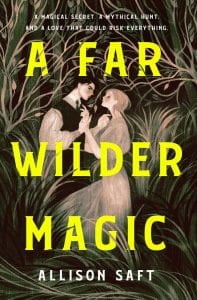 Saft, Allison. A Far Wilder Magic. Wednesday Books, 2022. 978-1250623652. $18.99. 384 p. Grades 9-12.
Margaret Welty spends most of her time living alone with her dog, Trouble. Her mother, a famous alchemist, spends most of her time traveling, away from home. Weston Winters is desperate to become an official alchemist, and when he arrives at the Welty house looking for the famous alchemist to become her apprentice, Margaret strikes a deal with him: she will allow him to stay until her mother returns if he agrees to join her in the annual hunt to kill the legendary Hala, a mythical and deadly fox that stalks the town until the hunt begins. Margaret knows she has a great shot, but she needs an alchemist as a part of her team in order to enter the competition. These two strangers soon find that they are drawn to each other and have more in common than they know. As the competition looms closer, so does danger, and together they must learn to trust each other in order to survive.
THOUGHTS: This unique, stand alone fantasy takes place in a made up world influenced by the culture and lifestyle of the 1920s. Although fantastical, the story also tackles more serious and relatable issues like prejudice and racism. Readers will be drawn into Saft's world and the slow romance that builds between Margaret and Weston and the connection they have as outcasts in their communities.
Fantasy          Emily Hoffman, Conestoga Valley SD