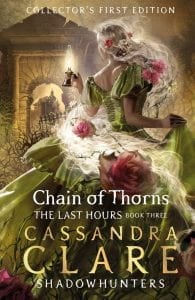 Clare, Cassandra. Chain of Thorns. Margaret K. McElderry Books, 2023. 978-1-481-43193-4. $24.99. 800 p. Grades 9-12.
Chain of Thorns, the final book in The Last Hours series, concludes the story of James Herondale and Cordelia Carstairs who found themselves engaged to one another to avoid ruining Cordelia's reputation. After witnessing an intimate moment between James and Grace Blackthorn, Cordelia escapes to Paris with Matthew Fairchild. Although James runs after them, he instead accompanies his father and Magnus Bane to find his sister, Lucy. Meanwhile, The Merry Thieves and the rest of the Shadowhunters are making plans to fight back against Belial and Tatiana Blackthorn, who has escaped imprisonment. Once they are all reunited, these friends uncover dark secrets and find the courage to speak their truths while they attempt to protect their fellow Shadowhunters from harm and save the entire city of London.
THOUGHTS: Cassandra Clare is a unique, fantasy author. She has never "left" the world of Shadowhunters that she first created with The Mortal Instruments, but instead continues the story both before and after the events of the original series. In my opinion, each series gets better and better and should be included in every young adult library collection. If you can get a student hooked on one series, they'll want to read them all! I was not disappointed with the conclusion of this series, and Clare has plans for one more series in the Shadowhunter world, and she does a fantastic job of including diverse characters into her novels.
Fantasy