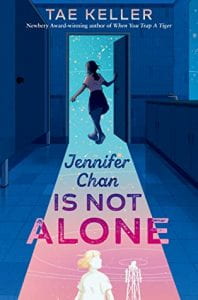 Keller, Tae. Jennifer Chan is Not Alone. Random House, 2022. 978-0-593-31053-3. 277 p. $17.99. Grades 4-8.
When Jennifer Chan goes missing, the entire community of Norwell, Florida is worried. But no one is more worried than her Korean-American classmate Mallory Moss, who knows of two possible reasons why Jennifer ran away. One of those reasons involves aliens. When Jennifer moved across the street from Mallory before school started, she confided in Mallory about her space research. According to Jennifer, aliens exist and they are trying to make contact with humans on earth. Jennifer knows that she has the code needed to help these aliens make contact, and she wrote all of her research down in her notebooks, which she lets Mallory take home to read. Unfortunately, Mallory knows that her friends Reagan and Tess will think Jennifer is absolutely crazy, so she distances herself from Jennifer as soon as school starts. But Reagan and Tess immediately start teasing Jennifer, and Mallory has no choice but to join in or she will lose her hard-earned popular status at school. This leads to reason number two of why Jennifer is missing: The Incident. Mallory believes that aliens may have taken Jennifer and realizes that Jennifer's notebooks might hold the clues for how to reach her. However, Mallory knows that if she searches for Jennifer, her part in The Incident might be revealed and make her the most hated girl in school. Mallory must figure out what is more important: what other people think about her or finding Jennifer before it's too late.
THOUGHTS: This is the first novel for Tae Keller since winning the Newbery Award for When You Trap a Tiger, and it does not disappoint. Keller tackles serious issues tweens and teens face in a compelling and gentle way, the most prominent being the cost of being popular at the expense of others. This book is a must-read and a must-buy for middle grade students.
Realistic Fiction            Danielle Corrao, Manheim Central SD