Stilton, Geronimo. Mouse Overboard! New York: Scholastic, 2016. 978-0-545-87251-5. 107 pp. $ 6.99. Gr. 2-4.
In another installment of this wildly popular Scholastic series, Geronimo Stilton is invited to Lisbon, Portugal, to retrace the journey of the famous explorer Vasco de Gama.  With a mix of fun fonts, lots of graphics and mystery, Geronimo and his friends set out on their adventure.  Along the way, the reader learns the history of Lisbon, facts about Vasco de Gama and his explorations, and even some geography with maps of de Gama's voyages.  Of course Geronimo has lots of silliness and sabotage to overcome too!  THOUGHTS: This series is great for the early reader.  The author does include a lot of history and geography and this could possibly be used in conjunction with a unit on early explorers.
Early Chapter Book      Donna Fernandez, Calvary Christian Academy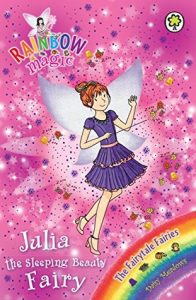 Meadows, Daisy. Julia the Sleeping Beauty Fairy. New York: Scholastic, 2016. 978-0-545-85189-3. 65pp. $4.99. Gr. 2-4.
Rachel and Kirsty are excited for their stay at the Tiptop Fairy Tale Castle.  But when they meet Hannah the Happy Ending Fairy again, they know that their stay will be even more magical!  Hannah turns them both into fairies, and they go to visit the nearest fairy village.  There they meet the Fairy Tale Fairies.  But when they try to read the book of fairy tales the fairies give them as a gift, they realize that it is empty!  Jack Frost and his evil goblins have stolen the fairies' magical items, and the girls must help them recover them, or the fairy tales will be lost or changed forever!  Can they help Julia the Sleeping Beauty Fairy recover her magic jewelry box and save the story of Sleeping Beauty?  THOUGHTS:  These magical series fiction books will captivate the early reader crowd and keep them reading!  The combination of adventure and fairies will keep them coming back for more. This book is one of seven in a series.
Early Reader Chapter Book      Donna Fernandez, Calvary Christian Academy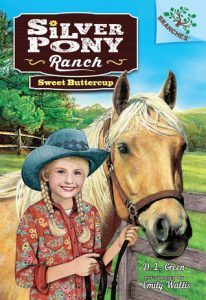 Green, D.L. Silver Pony Ranch: Sweet Buttercup. New York: Scholastic Branches, 2016. 978-0-545-79770-5. 90pp. $15.99. Gr. 1-3.
Tori and Miranda love staying with their Gran on the Silver Pony ranch.  They especially love to ride their ponies Jewel and Buttercup.  Gran tells them that there will be a horse show in just four days and the girls decide to compete.  As they are preparing for the show, a new girl and her family come to stay on Gran's ranch.  Ashley is not very nice.  She brags a lot about her riding abilities and her ranch back home.  She is also going to compete and is sure that she will win the ribbon for horsemanship.  Tori must figure out how to deal with Ashley in a way that is kind while still working hard to train for the show.  The girls create their own sparkly costumes and practice every day before the competition.  Will their hard work pay off?  Will Ashley's criticism and bragging about her abilities win her a ribbon?  THOUGHTS:  This early chapter book is part of the Scholastic Branches series that is a bridge between the easy reader and more difficult and longer chapter books.  Horse books are always in high demand in our library, so I can see this set being popular with those emerging readers.  This is book two in a two book series.  Book one is Silver Pony Ranch: Sparkling Jewel.
Early Chapter Book      Donna Fernandez , Calvary Christian Academy