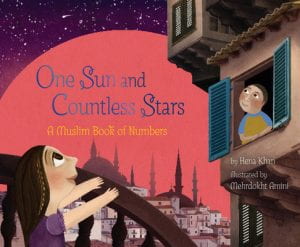 Khan, Henna. One Sun and Countless Stars: A Muslim Book of Numbers. Illustrated by Mehrdokht Amini. Chronicle Books, 2022. 978-1-452-18272-8. $17.99. Unpaged. Grades K-3.
For Muslim children, One Sun and Countless Stars: A Muslim Book of Numbers, is a mirror; for non-Muslim children, it is a window. Saturated in rich colors– golds, reds, turquoise–this horizontally-shaped book uses simple yet significant objects special to the Muslim community to correspond to the numbers. The story focuses on a young boy's family and some basic precepts of the Muslim religion: kindness, generosity, and prayerfulness. This visual presentation illustrator Mehrdokht Amini's drawings connect perfectly with the sparse text. Characters are depicted realistically with enlarged faces, full of expression; the calligraphy conveying the four-line rhymes on each page is readable and large font, also. The double-page spreads take up the entire space with vibrant paint or, in some instances, with a collage effect. Islamic motifs repeat in tablecloths, book covers, and window panes; minarets in the skyline indicate a Middle Eastern setting. The story marks an intersection of the ancient and the modern. Though the young boy dons western dress, the adults wear traditional Muslim garb as they make their pilgrimage to Mecca. Children of other faiths may find similarities, such as gathering to study the Quran, doing good works, fasting, or repetitious prayer. Though targeted for a primary grade audience, the book can inform older students as well. Includes a helpful glossary.
THOUGHTS: From end page to end page, this gorgeous picture book emanates a Middle Eastern tone. Though this book is an easy reader, the information it conveys may dispel any misconceptions young people may have about the Muslim religion. For this reason, teachers could use this book for students of higher grades, too.
Realistic Fiction          Bernadette Cooke, School District of Philadelphia