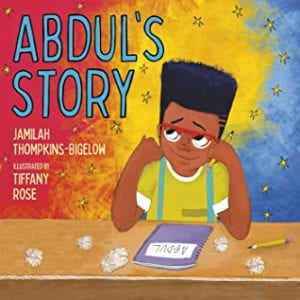 Thompkins-Bigelow, Jamilah. Abdul's Story. Salaam Reads, 2022. 978-1-534-46298-4. Unpaged. $17.99. Grades K-3. 
Abdul, a Black boy, lives in a vibrant neighborhood and has many stories to tell. However, when it is writing time at school, Abdul is frustrated by his inability to make letters and words on the page. His letters don't look right, spelling challenges like silent letters confound him, and his stories remain locked in his head. When Mr. Mohammad, an author, comes to his classroom, Abdul wants to emulate him. But once again the letters and words trip him up, until he erases a hole through his paper. Mr. Mohammad senses Adbul's distress and stops to talk with him. Abdul is astonished when Mr. Mohammad pulls out his own writing notebook. It's a mess! Words run every which way between and around doodles, circles, smudges and erasures. The important part, Mr. Mohammad explains, is getting everything you can down on the paper. You can fix the mess later. Abdul is enchanted, and gives writing another chance. Classmates, all of whom are Black or brown, deride his messy paper when he turns it in, but Abdul shines in the end, when Mr. Mohammad reads his story aloud. This book is obviously designed to encourage children to write, and its simple message will resonate with many youngsters. Illustrations by Tiffany Rose are filled with vibrant colors and exuberant life. Emotions are well presented on the faces of the characters, adding to the empathetic warmth of the story. 
THOUGHTS: The simple, yet important message is well conveyed, and eye catching illustrations will add to the attraction of the book.
Picture Book          Nancy Nadig, Penn Manor SD