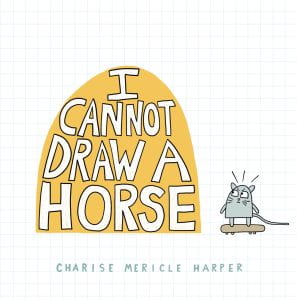 Harper, Charise Mericle. I Cannot Draw a Horse. Union Square Kids, 2022. 978-1-454-94594-9. 48 p. $17.99. Grades PK-3.
In Charise Mericle Harper's I Cannot Draw a Horse, a simple shape is turned into a cat, who DESPERATELY wants the author to draw it a horse. But the author cannot draw a horse, so she instead draws a variety of other creatures from the same shape, who then send the cat on a romp through the pages of the book. Fear not!  Charise Mericle Harper is nearby with her pencil to draw helpful features like hills and skateboards, all which develop the story. At the end, cat is delighted when the author realizes she CAN draw it the horse of its dreams.
THOUGHTS: In addition to being a fun read-aloud that will make readers laugh through its pages, the illustrations in I Cannot Draw a Horse will encourage readers to try their hand at creating characters as well. The message is straightforward: Anyone can draw…if they only try! This book will provide young artists the inspiration and confidence they need simply to TRY (and succeed!). Recommended for anyone looking to add humor and art themes to their collection.
Picture Book          Hannah J. Thomas, Central Bucks SD