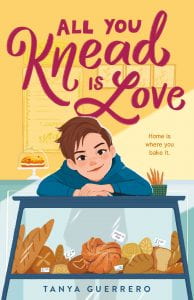 Guerrero, Tanya. All You Knead is Love. Farrar Straus Giroux Books for Young Readers, 2021. 978-0-374-31423-1 375 p. $16.99. Grades 4-6. 
Twelve-year-old Alba does not want to leave New York City and move to Barcelona to live with a grandmother she barely knows or remembers. But her mother, a native from Spain herself, is not moving with her, nor is her alcoholic, abusive father. Alba is leaving behind a school she does not like, very few friends, and a home full of secrets and trauma. All You Knead is Love by Tanya Guerrero is a heartfelt story about finding one's chosen family and discovering the passions stirring inside us. After arriving in a new country, Alba is surprised to find that she not only loves Barcelona but feels her most authentic self in this foreign land. She forms a close relationship with her grandmother, finds her first proper group of friends, and even experiences her first crush. Alba befriends a neighborhood baker who opens his kitchen as a haven to her; she begins to not only heal but thrive as his apprentice. Just as Alba discovers that she has a real passion and talent for baking bread, her beloved bakery faces an unexpected closure. Even more heartbreaking, her mother arrives in Barcelona after finally leaving her abusive relationship with Alba's father. Alba becomes determined to save the bakery- and mend and heal the strained relationship with her mother.
THOUGHTS: All You Knead is Love seamlessly blends the right amount of culture, music, cooking, and the Spanish language into a vibrant setting that charms and delights. This story transported me to the streets of Barcelona and made me laugh and cheer for Alba and her chosen family. Tanya Guerrero writes with such sensitivity, and her authentic tone created a story with characters that will stick with me for a long time. This story was a gem!
Realistic Fiction          Marie Mengel, Reading SD