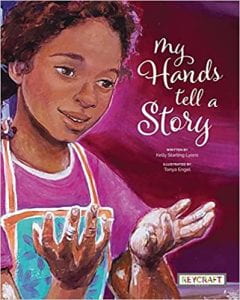 Lyons, Kelly Starling. My Hands Tell a Story. Reycraft Books, 2022. 978-1-478-87061-6. 36 p. $17.95. Grades K-3. 
When Zoe's grandmother waves her into the kitchen so they can bake bread together, Zoe is mesmerized by the magic and power in her grandmother's hands. Grandma's hands knead, push, and pull the dough until it's just right. Grandma gently guides Zoe's hands through the motions as well. While they wait for the dough to rise, the pair sit and talk. Readers learn about Grandma's past and all the things her hands have done: Raised children, planted gardens, typed and filed. Zoe wonders what she might accomplish with her own hands someday, considering possibilities like drawing, building, writing, making music, and baking. When she and Grandma high-five to celebrate the first bites of their freshly-baked treat, Grandma notes that although Zoe's hands are similar to her own, they will go places Grandma has never been. This inspiring, intergenerational story is rooted in love and celebrates the strong bond between grandmother and granddaughter. Vibrant, oil-painted illustrations beautifully capture heartfelt moments and the closeness these two share. The endpapers include a recipe for the same cinnamon bread Zoe and her grandma bake together in the book. 
THOUGHTS: Many students will make connections to the idea of cooking or baking a favorite food with a grandparent. This will also be a perfect choice for Grandparents' Day read-alouds. Additionally, this title can be used as a discussion starter about things students hope to accomplish with their own two hands. 
Picture Book          Anne Bozievich, Southern York County SD