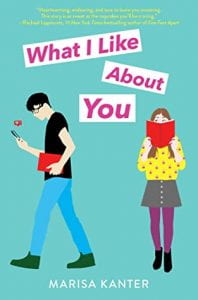 Kanter, Marisa. What I Like About You. Simon & Schuster, 2020. 978-1-534-44577-2. $18.99. 409 p. Grades 7-12.
Halle Levitt and her brother Ollie have just moved in with their grandpa. She will spend her senior year in a new small town and new school while her parents jet off to another country to film their newest documentary. Halle struggles, along with her Gramps, to be in the house without her Grams who passed away just a few years ago. It was her Grams that inspired her love of reading and baking, and when Halle isn't studying for her SATs or applying for college at NYU, she connects with her online best friend, Nash, and updates her online blog called One True Pastry. Online, Halle is known as Kels, and she's famous for her YA book reviews and her cupcake book cover creations. When Halle meets Nash in real life and discovers he lives in the same town as her Gramps, she decides not to tell him that she's also his online best friend, Kels. Halle and Nash grow closer, but Halle needs to find the courage to tell him who she really is and hopes that he'll like real-life, awkward Halle as much as he likes online, confident Kels.
THOUGHTS: What I Like About You reminds me of a YA version of the movie You've Got Mail. Halle's decision to keep her Kels identity from Nash is frustrating, especially when he feels guilty about liking Halle while also keeping his crush on Kels. This book not only focuses on romantic relationships, but on family relationships as well. I love how close Halle is to her brother Ollie, and together they help their Gramps overcome the loss of their beloved Grams, and although Halle and Ollie are Jewish, their busy parents never had much time for their family to be a part of a Jewish community, like they can be with Gramps. Anyone that loves books will connect with Halle, Nash, and their online friends, and after finishing this sweet, romantic story, you might be inspired to whip a batch of cupcakes for yourself. 
Fantasy          Emily Hoffman, Conestoga Valley SD