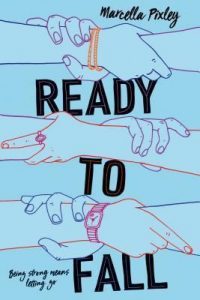 Pixley, Marcella. Ready to Fall.  Farrar, Straus and Giroux. 2017. 9780374303587. $17.99. 360 p. Gr. 8 and up.
After the death of his beloved mother, 16-year-old Max Friedman struggles with his spiraling depression and an unhealthy obsession with an imaginary brain tumor.  Withdrawing from his grieving father and completely unable to cope at his public school, he is given the opportunity to switch to a progressive private high school.  The school matches new students with a student fellow and a faculty mentor, and so Max meets Felicia, the pink-haired free spirit who goes by the name Fish and the demanding professor Gates. The change is a lifeline for Max.  With the help of his new circle of creative friends, some inspiring teachers and his supportive father and grandmother, Max hopes to lift the heavy veil of his depression and make a fresh start. Many of the characters in the book are intriguing;  well-developed and flawed or struggling in some way and Max's relationships with all of them ring true. The writing is emotionally charged and Max's grief is palpable. Pixley peppers the pages with scenes from Kafka's Metamorphosis and Shakespeare's Hamlet, writings that mirror Max's pain and depression, but also help him come to terms with his own struggles. THOUGHTS: Could be used as a contemporary companion piece for classes studying either of these classic works.
Realistic Fiction       Nancy Summers, Abington School District
Shusterman, Neal. Thunderhead (Arc of a Scythe Book 2).  Simon and Schuster, 2017. $18.99. 504 p. 9781442472457. Gr. 7 and up.
Thunderhead, the second novel in the Arc of a Scythe trilogy, is a compelling sequel to the boldly original Scythe. The series is set in a dystopian future in which the Thunderhead, an omniscient, advanced AI system, has solved most of humanity's problems including war and mortality.  The Scythdom was created to maintain a sustainable population and scythes are the individuals selected and trained to be the benevolent guardians of death, gleaning people as necessary to prevent overpopulation.  But now within the Scythdom, the Old Guard and the New Order factions are at war with each other. Cintra, as Scythe Anastasia, is revered as an inspiring Junior Scythe, respected for her adherence to the Old Guard principles.  Rowan, who has been denied his initiation, has assumed the mantle of Scythe Lucifer, a vigilante out to bring justice to the New Order scythes who relish their power and the perks of their positions. The Thunderhead itself features as a narrator and provides us with glimpses into its consciousness, objectives, and motivations as the defacto government head and deity. As the two sides of the Scythedom fight for control,  the Thunderhead is forbidden from intervening in their struggle and is unable to resolve the battle between the noblest and basest instincts of individual human beings. THOUGHTS: Yet another winning series from Shusterman, the master storyteller; readers will be eagerly awaiting the final book in this trilogy. A recommended purchase for all YA collections.
Science Fiction, Dystopian     Nancy Summers, Abington School District