Latham, Jennifer.  Dreamland Burning.  Little, Brown and Company, 2017.  978-0-316-38493-3. 371 p.  $18.99.  Gr. 8 and up.
In the early 1920s, Will Tillman is a teenage boy coming of age in Tulsa during the era of race riots and Jim Crow laws.  He wants to become a righteous man, but in order to do so, he must make some difficult decisions between the evening of May 31 and the afternoon of June 1, 1921, when white rioters loot and burn the African American section of Tulsa known as Greenwood.  Almost a century later, seventeen-year-old Rowan Chase begins asking questions when a skeleton is unearthed on her family's property.  Through alternating narratives, readers learn how Will and Rowan are connected through time and how sadly, the negative attitudes of some people towards African Americans persevere even today.  THOUGHTS: This title is an excellent addition to any school where U.S. history is taught.  Not only does it present a gripping account of one of the most violent (and heretofore largely overlooked) racial conflicts in our country's history, but it also raises monumental questions about how far we have come, or perhaps haven't come, as a country.  While the book highlights the stark realities of the state of our country, it still manages to inspire hope and assure readers that the love and courage of a few unsung heroes far outweighs the evil and cowardice of others.  Pair this with other titles that expertly address the issue of racism, such as Jerry Spinelli's Maniac Magee, Paul Volponi's Black and White, or Sherman Alexie's The Absolutely True Diary of a Part-Time Indian.
Historical Fiction     Julie Ritter, Montoursville Area SD
Landis, Matthew. The League of American Traitors. Sky Pony Press, 2017. 9781510707351. $16.99. 256p.  Gr. 7 and up.
The League of American Traitors takes place in the present, but there's an alternate reality that's been happening for the past 240-years between two secret societies: The Libertines and The League of American Traitors. These groups are made up of the descendants of America's traitors and America's patriots since the Revolutionary War and most of society has no idea that they have been dueling to the death for the past 240 years. The Libertines are determined to end the bloodlines of America's traitors, and, unfortunately for Jasper, he is the last direct descendant of America's most notorious traitor, Benedict Arnold. The story and action begins with the death of Jasper's dad, not only making Jasper an orphan, but also putting him next in line to be convicted and condemned for his ancestor's sins, which he finds out the hard way. Jasper, and the reader, go on a fast-paced journey to try and clear Arnold's name and avoid having to duel. There is attempted kidnapping, a violent clash on the streets of Philadelphia, a boarding school that doubles as a dueling academy, and lots of history that both Jasper, and the reader, learn about. THOUGHTS: This book is touted everywhere as National Treasure meets Hamilton. I can't speak to that since I haven't seen either, but that might be a selling point when book-talking this to students. The author is a Social Studies teacher in my district, and he includes notes at the end discussing the accuracy of the historical information included in the book. Despite the dark theme (gun violence, dueling, murder), the book also has light-hearted realistic teen banter that made me laugh. The League of American Traitors is a book I will recommend to my middle school students (7th – 9th) who are fans of action-packed books from authors like James Dashner, Dan Brown, and Richard Paul Evans or students who like some history with their fiction.
Historical Adventure      Bridget Fox, Central Bucks SD
Wein, Elizabeth. The Pearl Thief.  Hyperion, 2017. 978-148471716-5. 326 p.  $18.99  Gr. 8 and up.
The Pearl Thief, a prequel to Code Name Verity, features Julie Beaufort-Stuart a few years before she became a spy. For Verity's legion of fans, it is especially poignant to witness Julie's coming of age, since it is impossible to forget her ultimate fate. For those who have yet to read Verity, the book works just fine as a stand-alone. Fifteen-year-old Julie, a minor noble, returns to her ancestral home for the summer holidays and quickly finds herself at the center of a mystery when she is attacked and wakes up with no memory of the incident.  The local police are eager to blame the "Travellers," an ethnic group (similar and somewhat related to Romany peoples) native to Scotland. But Julie is adamant that they are not to blame; in fact, a Travellers family rescued her. Julie develops a strong attachment to Ellen, a Travellers girl her own age. Their relationship not only foreshadows the deep bond that develops between Maddie and Julie in Verity, but also offers a subtle but deep subtext on issues surrounding sexual preference and gender fluidity. The appearance of a (rather macabre) dead body and the disappearance of priceless pearls heighten the mystery element, but this book is much, much more than a whodunnit.  THOUGHTS: The writing is elegant, nuanced, and complex, and the subject matter is appropriate for younger as well as older teens. Recommended for fans of Code Name Verity and any reader looking for something meaty and thought-provoking; a strong purchase for high school libraries; an additional purchase for middle school libraries looking to acquire books for students with higher reading levels.
Historical Fiction, Mystery           Maggie Bokelman, Cumberland Valley SD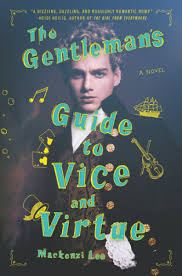 Lee, Mackenzi. The Gentleman's Guide to Vice & Virtue. New York: Katherine Tegen Books, 2017. 978-0-0623-8280-1. 528 p. $18.99. Gr. 9-12.
Eighteen year old Henry "Monty" Montague is no stranger to scandal. As the son of an earl, Monty's flagrant vices do not quite fit the gentlemanly life that's expected of him. His love for drinking, gambling and cavorting with both men and women have gotten him expelled from school and infuriated his mean father, who often takes out his anger with his fists. So Monty looks forward to a year away with his best friend Percy, who he also happens to have a massive crush on, as they venture on their Grand Tour of Europe. But trouble always seems to find Monty, and soon he, his sister Felicity, and Percy are caught up in political scandal, pirates, and alchemy as they make their way across Europe. As Monty explores the countryside and opens up to his friends, readers will surely see a part of themselves in Felicity, Percy or Monty. THOUGHTS: While this story may seem just like any other YA romance, this is one of the few mainstream teen books to feature a bisexual protagonist. Lee creates an incredible enthralling and fast-paced story that hooks readers in the first few pages. Not only does Lee explore gender identity in the 1800s, but readers will also learn about race relations, disability, and feminism during the time period as well. A delightful, well researched read.
Historical Fiction      Vicki Schwoebel, Friends' Central School