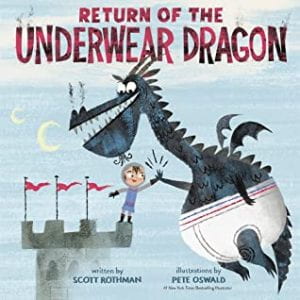 Rothman, Scott. Return of the Underwear Dragon. Random House Studio, 2021. 978-0-593-11992-1. Unpaged. $17.99. Grades K-2.
In this sequel to Attack of the Underwear Dragon (2020), Sir Cole has determined that the Underwear Dragon only tried to destroy the kingdom because he was unable to read the signs instructing him not to. Therefore, Sir Cole makes it his mission to teach the Underwear Dragon how to read. It is a difficult process, and both parties get so frustrated they want to give up. However, that's when Claire comes along with her fire extinguisher, which she uses to put out the dragon's flames of frustration. Sir Cole selects another book that the Underwear Dragon finds more interesting, and together, the trio continues to work towards its goal. Portraying the value of both literacy and perseverance, this humorous book definitely will resonate with young kids who are just learning to read.
THOUGHTS: Although this was not necessarily my favorite book this year, I did appreciate the humor and subtle messages portrayed by the story. Give this book to fans of Attack of the Underwear Dragon (2020) and/or students just learning to read. 
Picture Book          Julie Ritter, PSLA Member