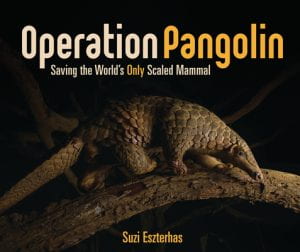 Eszterhas, Suzi. Operation Pangolin: Saving the World's Only Scaled Mammal. Millbrook Press, 2022. 40 p. $23.04. 978-1-728-44295-2. Grades 5-8. 
Pangolins are an endangered species, and they couldn't ask for a better book than Operation Pangolin to entice humans to ensure their survival. Wildlife photographer Eszterhas uses photographs liberally on wide pages, sure to elicit "oohs and aahs," as well as "awws" for amazing baby pangolin photos.  Eszterhas begins by focusing on the story of conservationist Thai Van Nguyen, who recalls the day as a child when he saw a pangolin and her baby being captured by poachers (likely for their scales, which are mistakenly believed to have medicinal properties), and how he vowed to "save all the pangolins in the world" (5). He now runs the world's largest pangolin rescue operation, Save Vietnam's Wildlife. He and his staff rescue and treat injured pangolins, and Thai frequently speaks about and introduces pangolins to humans. The small numbers of pangolins and their shyness means that scientists still have many questions about their life habits, such as life span, mating habits, and duration of pregnancy. Researchers do know that pangolins have poor eyesight and a strong sense of smell; they have special muscles to close their ears and nostrils (in addition to eyes) while eating ants; their sticky tongues can be longer than their bodies; and they swallow sand and small stones to aid digestion. The photos are the focus of this book. Readers see pangolins curled into balls, eating ants, using their fingers to dig or hold onto branches, undergoing medical exams by Thai's staff, and babies feeding and riding on their mothers' backs. The remarkably close and clear photos, even of their scales, gives a sense of wonder and understanding of these creatures. 
THOUGHTS: This book is a winner for upper elementary and above, with facts and photographs to enthrall readers and urge them to help.  Don't miss other recent amazing animal books by Eszterhas, including A Leopard Diary (2022) and The Adventures of Dr. Sloth (2022).
599.3 Pangolins          Melissa Scott, Shenango Area SD