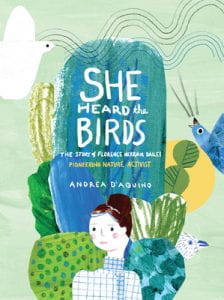 D'Aquino, Andrea. She Heard the Birds: The Story of Florence Merriam Bailey Pioneering Nature Activist. Princeton, Architectural Press, 2021. Unpaged. 978-1-648-96050-5. $18.95. Grades 1-3.
This picture book biography is the story of a woman who made a difference. Florence Merriam Bailey grew up in the late 19th century with her family who loved nature. Her mother was an astronomer and her father took the family on a summer long camping trip where she loved to observe the forest animals. Florence's favorite creatures were birds and she studied their behavior and songs. She strongly disliked the latest fashion in hats, which were adorned with feathers and even the actual carcasses of birds. Bailey and her classmates at Smith College initiated a successful boycott of these hats. Florence became an avid ornithologist and promoted watching birds in a natural setting with binoculars in contrast to scientists who studied them in laboratories. She was the author of a field guide and other books on birds and their methods of communication. The author's full bleed illustrations are done using hand-painted collage, oil pastel and pencil. Readers will enjoy examining the many colorful birds that are depicted.
THOUGHTS: This book is a great choice for elementary collections. It could be used during Women's History Month, Earth Day or in science units. Children will learn about the wonder and beauty of our feathered friends and may be inspired to do some birdwatching on their own.
921 Biography          Denise Medwick, Retired, PSLA Member
598.2 Birds