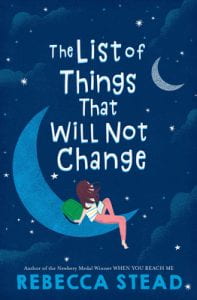 Staed, Rebecca. The List of Things that Will Not Change. Wendy Lamb Books, 2020. 978-1-101-93810-2. 218 p. $16.99. Grades 4-7.
Bea was eight when her parents divorced and gave her a green notebook with a list of "Things that will not change" written into it.  The first two items on the list are that her mom and dad will always love her and each other. Bea has been adding to that list ever since getting her notebook. The thing is, lots of things in Bea's life are changing, and being the worrier that she is, it's not always easy to adjust. Seeing her therapist helps, as does having both parents love and support her. When her dad tells her that he and his boyfriend are getting married, Bea is filled with excitement, for her father and his boyfriend, and for herself as Jesse has a daughter that is her age.  Bea has always wanted a sister, but things aren't as easy as Bea wishes. As the wedding gets closer, Bea comes to terms with her past secrets and the fact that things don't always have to be perfect to be perfect for her.
THOUGHTS: A must purchase for any middle grade library collection.
Realistic Fiction                   Krista Fitzpatrick- Waldron Mercy Academy