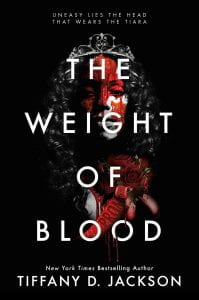 Jackson, Tiffany D. The Weight of Blood. Katherine Tegen Books, 2022. 978-0-063-02914-9. 306 p. $18.99. Grades 9-12.
Madison "Maddy" Washington, who lives with her controlling and abusive father in their small town of Springville, Georgia, has spent her whole life "passing" as white. She straightens her hair, dutifully applies sunscreen, and stays home if there's any chance of rain. An unexpected spring shower curls her hair and reveals that she is black, closely followed by a racist incident of bullying that is captured on another student's cell phone. As the students at Springville High attempt damage control to prove to the world that they are not a racist community, they consider ending the tradition of segregated proms for black and white students and holding the school's first All-Together Prom. One of the popular black students asks Maddy to prom as part of a stunt to keep up appearances, and readers familiar with Stephen King's Carrie will suspect where things are headed. Author Tiffany D. Jackson mixes Maddy's point of view with transcripts of a podcast called "Maddy Did It," press coverage of events in Springville, and the perspectives of several other students. The climactic prom chapters are gleefully, horrifically over the top.
THOUGHTS: Jackson's second foray into horror (after last year's White Smoke) is the work of an author at the top of her game. The Weight of Blood is a standout, from the cover image of a blood-soaked prom queen to the foreboding tagline: "Uneasy lies the head that wears the tiara."
Horror          Amy V. Pickett, Ridley SD
Mystery
The town of Springville, Georgia still is recovering from a tragedy everyone knows Maddy Washington is responsible for causing. In fact, there's now a podcast "Maddy Did It." But before the climactic event that changed the town forever, Maddy Washington is a high school student who keeps to herself and generally is considered a loner. At home Maddy lives in fear of her father, who owns an antique shop and enjoys reruns of favorite classic movies. Maddy, who secretly is biracial, has passed for white her entire life. Under the glare of her father's watchful eye, she can't imagine anyone finding out her secret and works hard to hide the truth. Avoiding the sun, wearing long clothes – even in the summer – Maddy stays home on rainy days and has a strict beauty regimen. When Maddy's gym class gets stuck outside in a sudden rain storm, she is devastated that her secret is out. Her peers are shocked, and Maddy's father is furious. When racist bullying, played off as a "simple joke," is caught on camera, Springville is labeled a racist community. Hoping to prove the world is wrong about them, student leaders attempt some damage control. But with a history of segregated proms, this small town seems to be stuck in the 1950s instead of modern day.
THOUGHTS: With masterful skill, Jackson gives an updated take on a Stephen King classic, incorporating racial tensions and teenage drama into a modern day setting. Highly recommended for high schools seeking to add new titles to their mystery/horror genre.
Horror          Maryalice Bond, South Middleton SD
Mystery