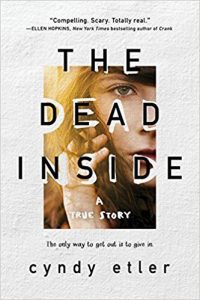 Etler, Cyndy. Dead Inside. Sourcebooks, 2017 . 9781492635734. 304 p. $17.99. Gr. 9 and up.
A grim and shocking memoir of a young girl's harrowing experiences in a juvenile rehabilitation facility. Ignored by her mother and abused by her stepfather, fourteen-year-old Cyndy Etler finds a degree of acceptance with a wild crowd on the rough streets of Bridgeport, Connecticut. When she runs away from her dysfunctional home, she is forced by her family into an addiction treatment center called Straight Inc., which operated dozens of centers up and down the East Coast. For sixteen months, Cyndy endures a complete loss of freedom and grueling discipline at the cult-like institution. The abusive mental and physical tactics employed at the center are truly frightening. Cyndy details the bizarre and cruel routines and punishments of the staff and older inmates who had the goal of forcing obedience and compliance from all new recruits. Under the relentless pressure, Cyndy turns from rebellious and disbelieving newbie to brainwashed graduate.  It is incredible how an institution like Straight Inc. managed to exist for years, escaping the scrutiny of child welfare officials. The program was finally shut down in the 1990s. However, similar places still exist for troubled youth today. It was only after years of commitment to AA and her time at University of Massachusetts that Cyndy was finally able to escape the shadow of her experience at Straight, Inc. She currently works as an educator and advocate for troubled teens.  Thoughts: For older teens who enjoy gritty, real life stories such as A Child Called It. Too graphic for younger readers.
362.29, Rehabilitation                       Nancy Summers,  Abington SD
Anderson, Jodi Lynn. Midnight at the Electric. HarperTeen, 2017. 978-0-06-239354-8. $17.99. 174 p.  Gr. 7 and up.
Adri Ortiz is on her way to Mars. Selected as a colonist in the year 2065, Adri arrives in Kansas, the home of space program, for final training before launch. She has been housed with a here-to-fore unknown relative, an elderly cousin. When Lily, 107, attempts to befriend Adri, she is told by Adri, "I'm not really a friendly kind of a person. I'm not charming or anything. I'm, like, the opposite of that." During the downtime waiting for training sessions, Adri explores the old house and comes across a postcard from Lenore to Beth, dated 1920. Curious, Adri questions Lily, who vaguely remembers some letters her mother used to read. Adri tears the house apart to find the letters and unravel the mystery. However, finding the letters only leads to more questions; questions Adri desperately needs answered before she is launched into space. The story is narrated from multiple viewpoints throughout time, corresponding to the documents Adri is reading. The reader, along with Adri, becomes emotionally involved with these strangers from the past, as the various threads eventually come together in a lovely, heartbreaking story. THOUGHTS:  This novel deservedly received multiple starred reviews. The evocation of the Dust Bowl during one storyline is stunning, and the themes of bravery, acceptance, and love are beautifully conveyed. Plus, there is a Galapagos tortoise who maintains continuity through the generations of the story. A must purchase for secondary collections.  
Fantasy, Science Fiction     Nancy Nadig, Penn Manor SD
Jodi Lynn Anderson latest work, Midnight at the Electric is a wonderful rabbit hole of a novel. We begin with Adri Diaz, in the year 2065.  Things are looking bad for the Earth, and Adri is part of an elite group chosen to colonize Mars. When she is sent to live with an elderly cousin she didn't know existed while she completes her training, she stumbles across a mystery, of sorts, about the former owners of the farmhouse. When Adri finds a diary written by Catherine Godspeed, the perspective switches. We learn about Catherine's life during the 1930s dust bowl; she, her mother, Beth, and her little sister, Beezie, are struggling to survive, and when her mother almost dies in a dust storm, she decides it's time for Catherine to learn the truth about a few things she's been keeping secret. Catherine is given a bundle of letters written to her mother from her best friend, Lenore, in 1919. Lenore lives in England, and she is reeling from the death of her beloved brother, Teddy, killed in a battles during World War I; writing to Beth, and spending time in an abandoned cottage on the outskirts of her family's property are her only outlets. Both Catherine and Lenore's stories end abruptly, and with no resolution, which infuriates Adri. Determined to discover what happened to these women, she searches the house, visits the town library, and the archives. Will Adri discover the secrets of the past before she leaves Earth forever?  This is a fascinating blend of science fiction and historical fiction. Anderson has painted a convincing picture of a crumbling and doomed Earth, but with a hyper-laser focus on Adri, she avoids tumbling too far into doom and gloom; we can put all of our attention on Adri's search, her hilarious and heart-warming relationship with her cousin, Lily, and on the intersection of Adri's, Catherine's, and Lenore's stories. The novel ends on a bittersweet note that may wrench a tear or two, especially if you have a thing for tortoises.
Science Fiction; Historical Fiction      Lauren Friedman-Way, The Baldwin School
Thomas, Angie. The Hate U Give. New York: Balzer & Bray, 2017. 978-0-06-249853-3. 464 p. $17.99. Gr. 9 and up.
Starr Carter is leading a double-life.  There's the Starr Carter who attends an exclusive private school with mostly white students, has a long-term boyfriend, who is also white, and who faces daily microaggressions.  Then there's the Starr Carter who lives in a poor neighborhood overrun by gang violence, who has a father who used to be a gang member, and who is best friends (or is she?) with Khalil.  Starr thinks she has a handle on navigating these two worlds until the night she witnesses Khalil's murder at the hands of a police officers.  Angie Thomas has written a provocative, moving, and often times enraging book that feels incredibly current, given the multiple deaths of unarmed black men in the last few years, and the resultant simmering anger across the nation.  Starr is a heroine of our time; her indecision, her fear, and her rage, are realistic; never do we, the reader, forget that she is just a sixteen year-old girl who has a monumental weight on her shoulders. Her support network, her family, her boyfriend, her friends, are extremely well-drawn; there are no caricatures here.  From feeling like an outsider wherever she is, to embracing, and melding, both selves into a confident young woman who finds her voice, Starr's evolution is glorious to behold.  Get this book into as many hands as possible.  THOUGHTS: This is one of my top 10 books of the year so far.  Not only is it incredibly timely, it is also beautifully written.  Starr is a character that everyone can see themselves in – the impulse to hide parts of yourself in order to just get through the day is universal. While this is not an easy book to read, it will hopefully inspire empathy in those who do read it; an extremely worthwhile book for allies and advocates alike.
Realistic Fiction     Lauren Friedman-Way, The Baldwin School
Angie Thomas's highly anticipated debut inspired by the Black Lives Matter movement more than lives up to the hype. Sixteen year old Starr lives in a poor neighborhood but attends an exclusive prep school. She finds that she is two people; one at home and one at school. One night after a party, Starr witnesses the unprovoked murder of her black friend Khalil at the hands of a white police officer. The murder makes national headlines, and Khalil is soon pegged as a thug and drug dealer. As protests ring out across her neighborhood, Starr is unwillingly thrown into the front lines, and finds her home and school lives colliding. As the media continues to paint Khalil as a gangbanger and make excuses for the shooting officer, Starr knows that only her voice can speak for Khalil – even if she's afraid to use it. THOUGHTS A timely and intimate portrait of racial injustices from the eyes of a black teenage, this incredibly important story sheds light on police brutality, judicial racial bias, and white privilege, among other things. Starr is a relatable, believable, and fierce protagonist. If you buy one book this year, make it this.
Contemporary Fiction    Vicki Schwoebel, Friends' Central School
Thomas, Angie. The Hate U Give. Balzer & Bray/HarperTeen, 2017. 978-0-062-49853-3. 444 p. $17.99. Gr. 9 and up.
Starr Carter leads two separate lives. Though she lives in a poor neighborhood, Starr attends a fancy suburban prep school. She is conscious of how she talks differently, and at times the struggle between her two worlds weighs on Starr. After reconnecting with her childhood best friend Khalil, Starr witnesses his death at the hands of a police officer. Unarmed, the news of Khalil's death goes viral, and Starr is thrust in the middle of a national headline she isn't sure she wants to be part of. In order for Starr to reconcile her feelings about Khalil's death, she needs to figure out which world she wants to live in and for what she stands. Fortunately, Starr has a strong family that will help her through this tragic situation.  THOUGHTS: This book is necessary, and teens will feel at home with Thomas's honesty over Starr's struggle. While the language may make some adults uncomfortable (strong language and themes), this novel could have been ripped right from today's headlines. Teens need real stories that are relevant to their own lives to help them process their feelings and fears. Thomas's The Hate U Give should be required reading for anyone interested in social justice, social issues, or today's world.
Realistic Fiction        Maryalice Bond, South Middleton School District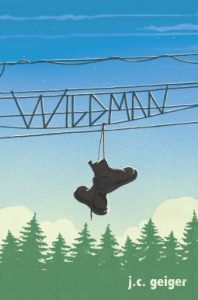 Geiger, J. C.  Wildman. Disney-Hyperion, 2017. 9781484749579. $17.99. 336 pp. Gr. 9-12.
Sometimes it may look like you have it, the perfect life, until you get thrown off course and need to recalibrate. So it goes for Lance, a graduating teen who has life mapped out for him until his father's Buick decides to break down in the Pacific Northwest wilderness. Suddenly he finds himself saving passengers, getting in fights, jumping trains, and unleashing the "Wildman" inside him. More important than those adventures, though, is his confrontation with identity and love and his future choices. Lance is in for one wild ride!  THOUGHTS: Definitely geared to the older high school crowd, this novel is lacking in a few areas, but is overall a satisfying read. The author's debut novel has plenty of his personal knowledge mixed with some interesting, complex characters. What the story misses from leaps of logic and lacks in diversity are balanced by some creative plot points and well written settings.
Realistic Fiction, Action/Adventure     Dustin Brackbill, State College Area SD