Backman, Fredrick. Beartown. Atria Books, 2017. 978-1501160769. 432 p. $26.99. Gr. 10 and up.
I am not an avid sports fan, but Fredrick Backman's latest novel is about so much more than just a little hockey town in Sweden and the goal of having their club win the junior championship. Though not marketed necessarily to teens, it would be an engrossing read for young men and women alike as it touches on many different issues that they face as young adults. The main plot centers on the relationships between the players, the coaches, the general manager and his family, various sponsors and other community members. The town's devotion to the local hockey club borders on the fanatical, and some begin to question their allegiance once a violent act takes place and becomes known to the town. Thus, there are multiple characters, but each is so unique that the reader does not have trouble navigating through their various lives.  Backman is a masterful storyteller.  The novel surprises the reader constantly, especially after starting out a bit predictable. The themes are strung together and fall perfectly throughout the plot, as the characters and their actions keep you engrossed until the end. THOUGHTS: I highly recommend this title to mature teens who will take time to contemplate the various actions of the characters. There is drinking, sex, and some violence, so make certain that you are sharing it with the appropriate audience.
Sports      Lindsey Myers, Shadyside Academy
Aceves, Fred.  The Closest I've Come. Harper Teen, 2017.  978-0-06-248853-4. 310 p. $15.99. Gr. 9 and up.
Marcus Rivera is growing up in a dysfunctional home in Tampa with his distant mother and her abusive boyfriend.  The family is barely getting by, and Marcos is not getting most of his basic needs met at home.  Though he has his crew of friends who have his back at school and in the rough neighborhood where they live, he still feels lonely and disconnected.  When Marcos is selected to join a support group for troubled kids with potential, he meets some new friends who open up new perspectives to him. The Closet I've Come is a thoughtful and moving story about resilience, friendship and the search for belonging.  It touches on the some dark topics including abuse, poverty and the appeal of drugs that trouble the rough neighborhood of Maesta.  Marcus' ruminations about these realities are enlightening , but also humorous at times and readers will be rooting for Marcos to realize his potential.  THOUGHTS: A positive novel about overcoming difficult circumstances that would appeal to fans of Walter Dean Myers,  Jason Reynolds and Matt DeLa Pena.
Realistic Fiction         Nancy Summers, Abington School District
Sanchez, Erika L. I Am Not Your Perfect Mexican Daughter. Alfred A. Knopf, 2017. 978-1-52-470048-5. 352 p. $17.99. Gr. 9-12.
Julia is outspoken, impulsive, and confrontational. More than anything, she wants to move out of her parents house, go to college in New York City, and become a famous writer. Her parents, who immigrated from Mexico, do not understand why Julia isn't more like her older sister Olga. Olga attends a local community college, lives at home, and comes home every night to help her mother and father around the house. Julia can't help who she is, and can't do anything to show her parents that she will never be a perfect daughter like Olga. When Olga is hit and killed by a bus, the thin string holding the family together is completely broken. Julia's mother spends days in bed, her father refuses to speak, and Julia is left picking up the pieces of her broken family. But Julia is deeply affected by her sister's death too, and sadness spirals into deep depression. When Julia can't sleep, she sneaks into Olga's room and discovers a few items that reveal Olga might have been hiding a secret before her death, and Julia focuses her limited energy on discovering who her sister was – and why she was hiding it from her family. THOUGHTS: This book expertly explores many tough issues like abuse, immigration, suicide, and gang violence in an authentic teen voice. Julia's story, while difficult, is one that belongs on your YA shelves.
Contemporary     Vicki Schwoebel, Friends' Central School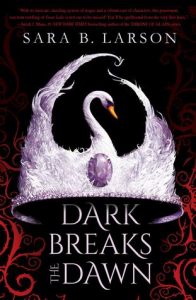 Larson, Sara B.. Dark Breaks the Dawn. Scholastic, 2017. 978-1-3380-6869-6. 320 p. $17.99. Gr. 8 and up.
Sara B. Larson's Dark Breaks the Dawn is a fast-paced, dark YA romance based on the story of Swan Lake. In order to save Eadrolan, the Light Kingdom from King Bain, the nefarious and ruthless ruler of Dorjhalon, the Dark Kingdom, newly crowned Queen Evelayn must do what her parents could not – end the war between the kingdoms. In both kingdoms, children come into their full magical abilities at age eighteen – those in Eadrolan can harness the power of light, and are at full strength at the summer solstice; those in Darjhalon can harness the dark, and are at their full strength during the winter solstice. Evelayn is not only new to her powers, but also new to ruling a kingdom. With the help of her advisors, and her too-good-to-be-true love interest, Lord Tanvir, she concocts a plan to trap King Bain and kill him. Meanwhile, over in Dorjhalon, Bain's son, Lorcan, raised in the shadows of his father's wrath and cruelty, seems to have plans of his own. THOUGHTS: There is very little character development here (the good guys are really good, the bad guys are really bad), and there are some gaping plot holes (for example, if Bain is truly 300 years old, why wait until now to make war against Eadrolan?), but readers probably won't care, because this action-packed, slim novel will suck them in, and the ending will leave them begging for the next installment. Hand this to fans of Sarah J. Mass and Leigh Bardugo.
Fantasy      Lauren Friedman-Way, The Baldwin School