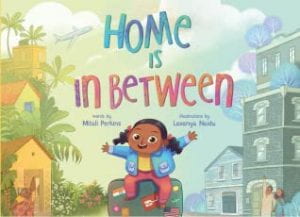 Perkins, Mitali, and Lavanya Naidu. Home is in Between. Farrar, Straus, Giroux Books for Young Readers, 2021. 978-0-374-30367-9. unpaged. $18.99. Grades K-3.
Shanti is a sweet girl who says goodbye to her village in Bengal and moves with her parents to America. She keeps a curious and positive attitude through the cultural shifts of home and school and town and activities while trying to help her parents and keep their cultural identities intact. But all of this code switching takes a toll on Shanti, as she finds herself occasionally worn down and exhausted trying to keep up. The resolution of a social gathering to share the space between cultures is perhaps a simplified ending to what is surely an ongoing process for adapting and adopting to a new home, but readers will feel and empathize with Shanti's dilemma. Mitali Perkins keeps the story relatable and mixed with personal experience and plenty of Hindi words and Indian customs. Lavanya Naidu shines as the illustrator who creates the family dynamics and emotional changes through the story with colorful expressions and emotional details. While the journey to a new home is not easy, this tale will help readers see that the 'in between' brings needed value to feeling at home.
THOUGHTS: The idea of code switching for young children from other countries and cultures has rarely been illustrated as well as this book. Perfect for classrooms who are welcoming ELL students or libraries looking for demonstrations of social emotional skills. Highly recommended.
Picture Book          Dustin Brackbill    State College Area SD