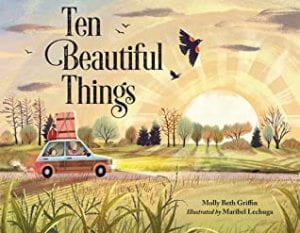 Griffin, Molly Beth. Ten Beautiful Things. Charlesbridge, 2021. Unpaged. 978-1-580-89936-9. $16.99. Grades K-2.
Lily and her grandmother are driving to Iowa, which now will be the young girl's home. As Lily sits in the back of the car watching the scenery, she feels an empty place and an anxious feeling in her stomach. Seeing her granddaughter's sadness, Gram suggests they play a game and look for ten beautiful things during their journey.  Their trip begins in darkness and then suddenly an amazing sunrise comes into view and becomes the first beautiful thing. As they travel on, Gram and Lily find other marvelous things, like a windmill farm, a red-winged blackbird, the sound of a gurgling creek and the earthy smell of mud. When they are nearly at their destination, a powerful thunderstorm appears with lightning, winds, and heavy rain. Lily realizes that just as this storm seemed to fill up the whole world, the empty places within her are now filled by Gram and her new home. The downpour has stopped, the sun is shining, and all will be well. Lechuga's digital illustrations are charming, and she skillfully depicts the young girl's anxiety in the drawings.
THOUGHTS: Children experiencing a life changing event will find a connection with Lily. By not revealing the reasons, the author has created a touching story that will apply to a number of situations, such as death, deployment, imprisonment, abuse, or custody issues. Guidance counselors and caretakers will find this book a valuable tool to promote discussion. A worthwhile purchase for all elementary libraries.
Picture Book          Denise Medwick, Retired, PSLA Member